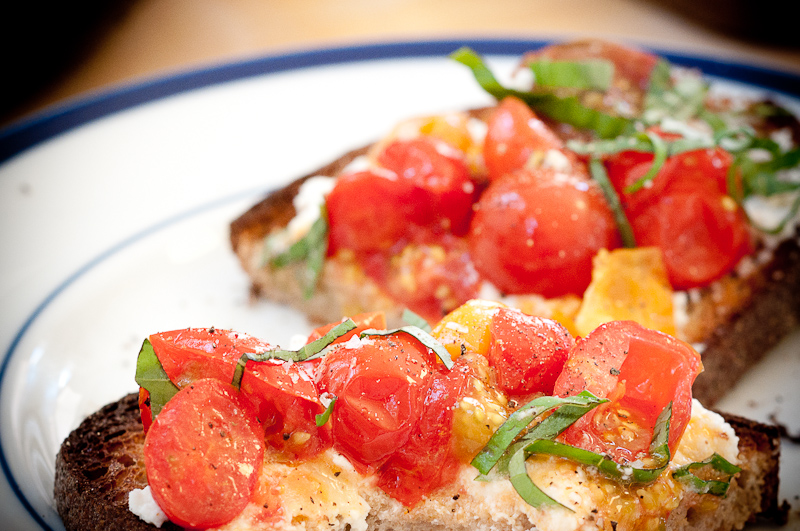 Lightly Cooked Cherry Tomato and Ricotta Bruschetta
This bruschetta is the epitome of carefree cooking, made almost entirely by gathering good ingredients. Ripe, organic cherry tomatoes (maybe from your backyard?), ricotta (Calabro?), a bit of good olive oil, garlic and fresh basil. A nice artisan pain au levain brings chew and flavor to the party.
Generally I would do a bruschetta like this without cooking the tomatoes at all, maybe just tossing them with the other ingredients awhile ahead of time so that they start to marinate a bit. But there is something great about cooking them for just a couple of minutes as well. The tomatoes start to break down into something that is halfway between salad and sauce that is quite luxurious with the ricotta.
It is important to cut thick slices of bread for bruschetta because that allows you to get nice browned flavors on the exterior while still retaining a chewy interior crumb. If you use thin slices, you'll end up with a dry cracker.
Honestly I didn't write down a recipe for this bruschetta because I didn't particularly plan on sharing this on the blog, but then it was just so tasty I felt compelled! So here is an approximate recipe. Use your own cooking sense to adjust it, you can't go wrong.
Lightly Cooked Cherry Tomato and Ricotta Bruschetta
Vegetarian
Yields 4 large pieces
1/4 cup extra-virgin olive oil, divided
1 or 2 cloves garlic, minced
2 1/2 cups cherry tomatoes, halved
Kosher salt
4 thick slices pain au levain or other artisan bread
3/4 cup fresh ricotta, room temperature
Fresh basil, thinly sliced (chiffonade)
Flaky sea salt
Fresh ground black pepper
Place a medium skillet over medium heat. Add 2 tablespoons olive oil. When it is hot, add the garlic and saute until fragrant, about 30 seconds. Add the cherry tomatoes and 1/2 teaspoon of Kosher salt and cook until warmed through and just starting to break down a bit, stirring occasionally, about 2 minutes. Turn off heat, taste and adjust seasoning, and reserve.
Brush the bread with the remaining olive oil and grill or toast until well browned.
To finish the bruschetta, spread each slice of bread with 1/4 of the ricotta and 1/4 of the cherry tomato mixture, a drizzle of olive oil if you are so inclined, a bit of the basil, a few flakes of salt, and a few grinds of pepper. Cut each piece in half and serve immediately.