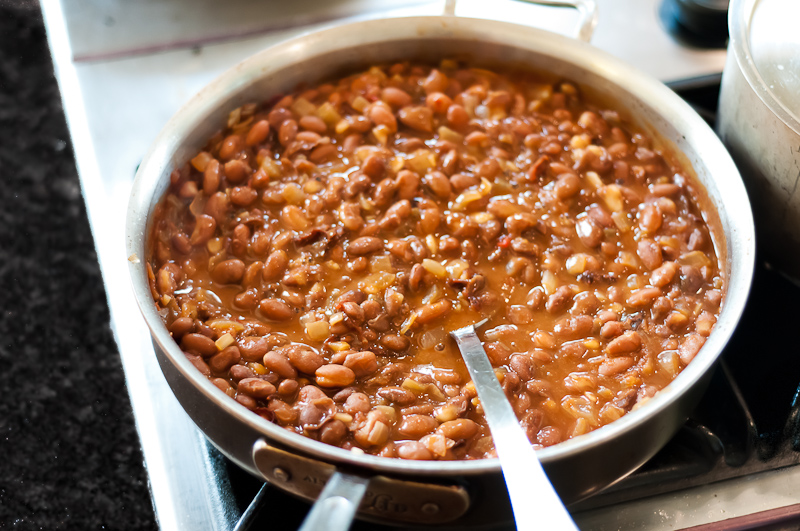 Vegetarian Frijoles Charros – Mexican Cowboy Beans
Frijoles charros are a classic way of serving beans in Mexico. Unlike refried beans, the pinto beans are served whole, in a broth redolent of smoke and tomato. Traditionally, that smoke flavor comes from bacon.
NOTE: I no longer recommend jury-rigged stovetop smoking. I've since learned that creating smoke in a low-oxygen sealed environment like this creates unnecessarily high levels of carcinogens. See my Smoked Tofu Buns recipe for a safer alternative if you don't have your own method of smoking.
My first thoughts for creating the smoke in a vegetarian version revolved around using chipotle or chile moro (smoked jalapenos without the adobo sauce), and I'm sure that would be good. But those ingredients can lack the freshest top-note flavors of smoke. It turns out that quickly smoking a diced onionin an improvised setup on the stovetop is an amazing way to get those bright, volatile smoky elements. You may want to temporarily disable your smoke detector and run your vent fan while doing this step. Don't forget to put your smoke detector back immediately afterwards. Please make sure you have adequate ventilation before generating smoke, and only undertake this recipe if you know how to do it safely.
The section on smoking in Modernist Cuisine taught me some things I never new about smoking. For instance, you are much better off not soaking your wood chips. The best flavors come out in smoke between about 400 and 750 degrees Fahrenheit. When you soak them, that keeps them cooler and you tend to get more acrid, off flavors.
This recipe will come out much better if you cook your own beans at home, whether on the stovetop, or in a pressure cooker. The beans will have a better texture, and you'll have their flavorful cooking liquid available to make the broth. In a pinch, you could probably do it with canned beans that have been thoroughly rinsed, and substitute a good, clear vegetable broth for the bean-cooking liquid.
Try these beans as an alternative to refried beans with any Mexican meal. They would go great with any of these dishes: Arroz Verde, Arroz a la Mexicana, Grilled Pepper and Tofu Tacos, Swiss Chard, Onion and Monterey Jack Enchiladas, Achiote-Rubbed Butternut Squash Tacos, Bocoles, and Nuevo León Style Tamales.
Vegetarian Frijoles Charros – Mexican Cowboy Beans with Smoked Onion
Serves 4 / Vegetarian, vegan, and gluten-free
1 cup hickory or mesquite wood chips
1 large white onion, small dice
2 pasilla oaxaca or other whole dried chiles of your choice
3 tablespoons vegetable oil
2 garlic cloves, thinly sliced
1 tablespoon Kosher salt (if using Diamond Crystal; start with half as much if using Morton's)
3 tablespoons tomato paste
1/2 cup canned crushed tomato
4 cups unsalted home-cooked pinto beans, and 2 cups of their cooking liquid
Put the wood chips in a medium-sized saucepan that you don't mind discoloring. Place a folding steamer basket on top of the wood chips, and put the onion on it. Put the lid on the pot, and place it on high heat. Cook for seven minutes, then turn off the heat. See note on safer smoking above. Carefully taste a piece of onion and confirm that it has a good level of smoke. If not, cook for another couple of minutes.
Place a large skillet over medium-high heat. When it is hot, press the pasilla oaxaca chiles down onto it with a spatula, just for a few seconds on each side. Wearing disposable gloves, remove the stems and seeds from the peppers and crush them into very small pieces.
Add the oil to the same skillet, over medium-high heat. When the oil is shimmering, add the crushed chiles, smoked onion, garlic and salt and cook, stirring occasionally until the onion is softened, about 3 minutes. Add the tomato paste and cook until it darkens, about 2 minutes.
Add the crushed tomato, the beans, and 1 cup of the bean liquid. Bring to a simmer and reduce heat to maintain. Cook for about 15 minutes, then taste and adjust seasoning. Add more of the bean liquid to find the desired brothy consistency. Serve hot.