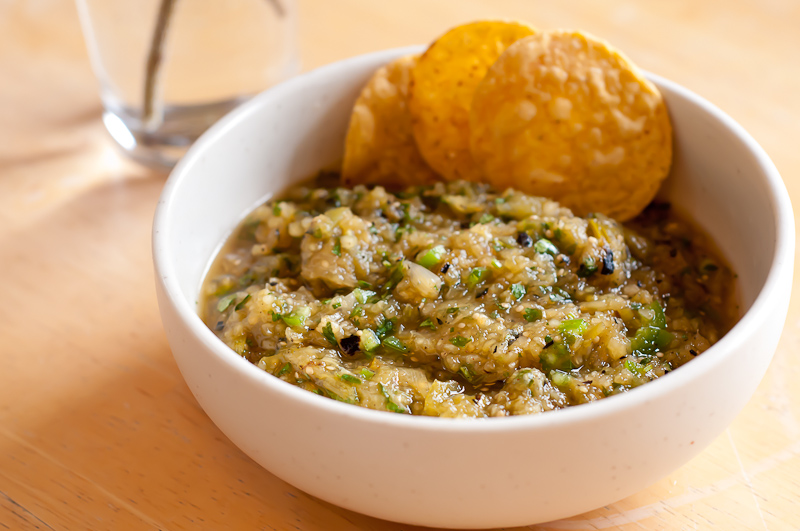 Smoked Pineapple and Tomatillo Salsa
NOTE: I no longer recommend jury-rigged stovetop smoking. I've since learned that creating smoke in a low-oxygen sealed environment like this creates unnecessarily high levels of carcinogens. See my Smoked Tofu Buns recipe for a safer alternative if you don't have your own method of smoking.
You might notice I've been on a bit of a stovetop-smoking kick, what with last week's frijoles charros. This pineapple and tomatillo salsa uses the exact same method. If you are making both, don't try to get enough smoke from one batch of wood chips; you won't get the best flavor if you run them too long.
The smoke adds a haunting flavor to this salsa. My brother's comment was "you should bottle this stuff." I ate it all week, on tacos, quesadillas and chilaquilles – my usual regimen of quick eats based on leftovers from a Mexican feast.
Please make sure you have adequate ventilation before generating smoke, and only undertake this if you know how to do it safely.
Fruit salsas always run a risk of being too sweet, but the smoking tempers the sweetness of the pineapple, and the tomatillos are quite tart. I found I actually had to add some agave nectar to reach just the right balance.
p.s. I recently got a review copy of my friend Keren Brown's Food Lover's Guide to Seattle. Whether you think you know the Seattle food scene, or are visiting the first time, she's unearthed treasures you don't know about. She covers not just restaurants, but farmer's markets, specialty shops and small producers and calls out places that are great for vegetarians, gluten-free eaters, and small kids. If you eat in Seattle, you should have her book.
Smoked Pineapple and Tomatillo Salsa
Vegetarian, vegan, and gluten-free / Makes about 2 cups
1 cup hickory or mesquite wood chips
1 3/4 cups fresh pineapple chunks
4 small tomatillos, peeled and halved
3 green onions, ends removed and cut in half lengthwise
1 clove garlic, thinly sliced
1 jalapeno, seeded and coarsely chopped
1 handful cilantro
1 teaspoon Kosher salt
1 to 2 tablespoons agave nectar
Chile de arbol or cayenne powder
Put the wood chips in a medium-sized saucepan that you don't mind discoloring. Place a folding steamer basket on top of the wood chips, and put the pineapple chunks on it. Put the lid on the pot, and place it on high heat. Cook for 5 minutes, then turn off the heat. See note on safer smoking above. Carefully taste a piece of pineapple and confirm that it has a good level of smoke. If not, cook for another couple of minutes.
Heat a small skillet over medium-high heat. Put the tomatillos and green onions in (with no oil) and cook, turning occasionally, until they start to darken in spots, about 5 minutes.
Put the smoked pineapple, tomatillos, green onions, garlic, jalapeno, cilantro, salt, agave nectar, and a pinch of chile de arbol in a mini-food processor. Process until it forms a coarse puree. Taste and adjust seasoning. Serve at room temperature for best flavor. This salsa will keep for at least 3 days in the refrigerator.