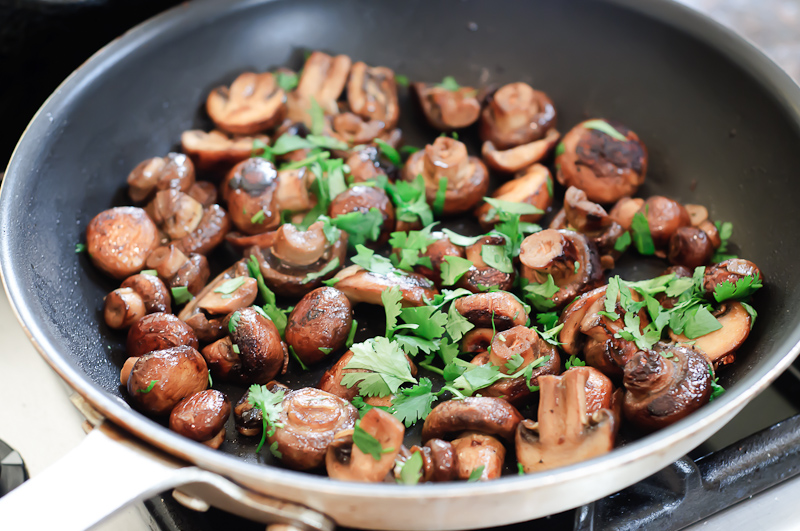 Hongos en Escabeche – Mushrooms Sauteed with Vinegar
I love the chewy texture of mushrooms when they are left in bite-sized chunks, rather than thinly sliced. There is a nice contrast between the browned, flavorful crust and the juicy interior.
These mildly-vinegared mushrooms are versatile and easy. I was serving them with a Mexican meal, so I garnished them with cilantro, but you could just as easily use parsley and include them on a Spanish tapas spread. Change to a red wine vinegar or (a smaller amount) of aged balsamic and you are in Italy.
Hongos en Escabeche – Mushrooms Sauteed with Vinegar
Vegetarian, vegan, and gluten-free / Serves 4 as an appetizer or side dish
1 tablespoon olive oil plus more for garnish
4 cloves garlic, thinly sliced
1 pound small button or crimini mushrooms (or medium ones, halved)
1/2 teaspoon Kosher salt
3 tablespoons sherry vinegar
1 handful cilantro leaves
Put the olive oil in a medium skillet over medium-high heat. When it is shimmering, add the garlic and saute for 20 seconds. Add the mushrooms and salt, and saute until browned in spots and cooked through, but still retaining their shape. 
Add the vinegar and toss through; continue cooking until absorbed. Taste and adjust seasoning. Turn off the heat, allow to cool slightly, and garnish with the cilantro and an additional drizzle of olive oil. Serve warm.