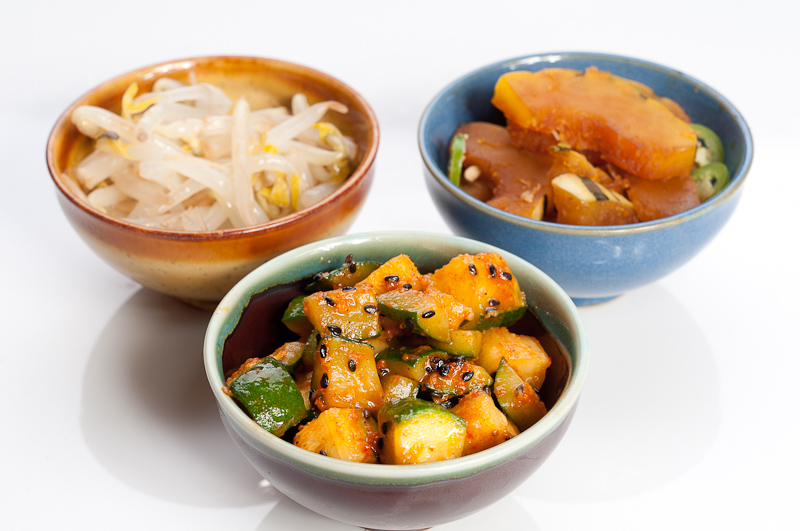 Three Easy Banchan (Korean Side Dishes)
No Korean meal is complete without a selection of at least a few banchan - the small side dishes that are served in the middle of the table for everyone to enjoy. Banchan are usually chilled or at room temperature
There are hundreds of different banchan recipes, many of which can be whipped up in just a few minutes. Once you get an idea of the flavor palette, you'll be able to improvise your own. Here are three of my current favorites (all vegan).
Here are a few Korean or Korean-inspired dishes that these banchan would go well with: mandu (Korean potstickers), tofu & kimchi bowl, vegetarian japchae, and the kimchi stew that will be in my upcoming book!
Bean sprouts with sesame oil
2 cups bean sprouts
1 tablespoon toasted sesame oil
Sea salt
Bring a small pot of salted water to a boil and blanch the bean sprouts for 90 seconds. Drain, rinse in cool water, drain again and pat dry, then toss with toasted sesame oil and a big pinch of sea salt. Chill. 
Squash in sweet soy sauce
1 small delicata squash, halved, seeded, cut into 1/4" thick half moons
1/3 cup soy sauce
1/4 cup sugar
2 tablespoons rice vinegar
1-inch piece of ginger, grated
1 thinly sliced jalapeno pepper (optional)
In a small saucepan, cover squash with water, bring to a boil, and simmer until nearly tender, about 5 minutes. Drain. Mix soy sauce, sugar, rice vinegar and ginger. Pour over the squash and bring back to a simmer; cook until fully tender. Chill. Stir in jalapeno pepper. Serve with only a small amount of the liquid. You can also do this with sweet potato.
Spicy stir-fried zucchini
1 tablespoon toasted sesame oil
1 small zucchini, 1/2-inch dice
1/4 teaspoon Kosher salt
1 teaspoon gochujang
1/2-inch piece ginger, grated
1 teaspoon toasted black sesame seeds
 Heat a small skillet over high heat. Add toasted sesame oil. When it shimmers, add the zucchini, salt, gochujang and ginger. Stir fry until crisp-tender, about 1 minute. Transfer to a bowl and mix in sesame seeds. Chill.