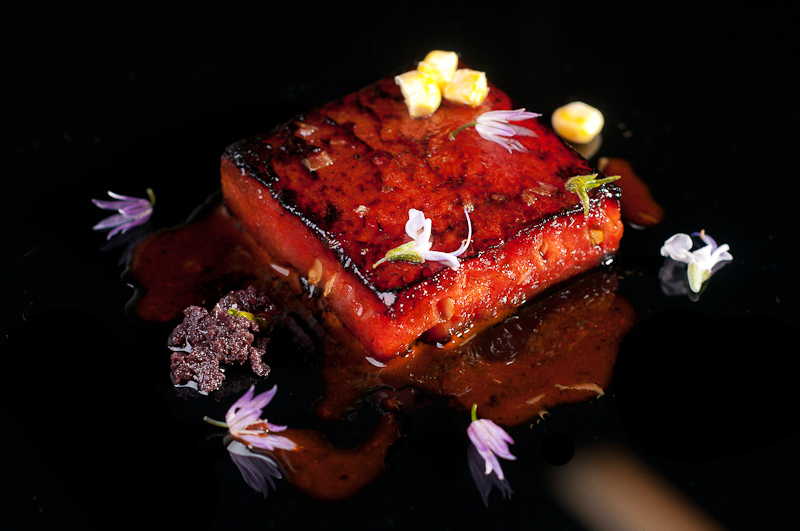 Seared Watermelon with Flavors of Summer – Yes, That's Vegetarian
A few days ago I was surfing my RSS reader for a few minutes before bed, when this post from Alex and Aki hit me like a ton of bricks. I've seen compressed watermelon before, but I don't think I've ever given any thought to searing it. Genius. I had to try this immediately, and fortunately I had a cut-up watermelon already in the refrigerator.
I didn't do their whole process, I just went right to a smoking hot saute pan. The result was striking, both in looks and the flavor, which is sweet but with a hint of grilled taste. It might be surprising that something as wet as a watermelon can get hot enough to brown, but it has a lot of sugar that can caramelize, and when you apply moderate, even pressure with a heavy spatula (or grill weight) to compress the melon, it squeezes out enough liquid to allow the high heat to dry out the surface temporarily.
Here's my riff, dressed up a bit with black olive, dehydrated corn, chive flowers, rosemary flowers and oregano tips, and a jus made from the fond and more watermelon juice. A large square like this makes a nice first course, but a smaller portion would also be excellent as an amuse bouche.
Hands down my favorite part of the garnish was the freeze-dried corn (which you can find at Whole Foods). It adds a nice crunch, but even better, the flavors of corn and watermelon just immediately take you to a summer picnic.
Seared Watermelon with Flavors of Summer
Vegetarian, vegan, and gluten-free / Serves 4
2 tablespoons extra virgin olive oil
4 seedless squares of watermelon, 2 1/2″ x 2 1/2″ x 1″
1/2 cup watermelon juice
8 brine-cured black olives, pitted and mashed to a paste
Just Veggies brand freeze-dried corn
Chive flowerets (from 1 flower)
Rosemary flowers
Tiny tips of oregano
Maldon (aka the world's greatest salt) salt
Heat a saute pan over very high heat. Add the olive oil, and when it is smoking hot, add the watermelon. Be careful, there will be some spattering when the wet melon meets the oil, and I've also seen it flame up. Cook, pressing occasionally with a long, heavy spatula to compress, until the melon is well-seared on one side, about 3 minutes. Flip and repeat on the other side.
Remove the watermelon. Pour excess oil out of the pan. Return the pan to the heat and deglaze with the watermelon juice, reducing it a bit but not to a syrup; we are looking for a jus-like consistency. Drizzle the jus on serving plates and place a piece of watermelon atop the jus.
Garnish each piece with a small amount of the olive paste, a few kernels of dehydrated corn, a few of the chive flowers, rosemary flowers, and oregano tips, and a final sprinkle of Maldon (aka the world's greatest salt) . Serve warm.