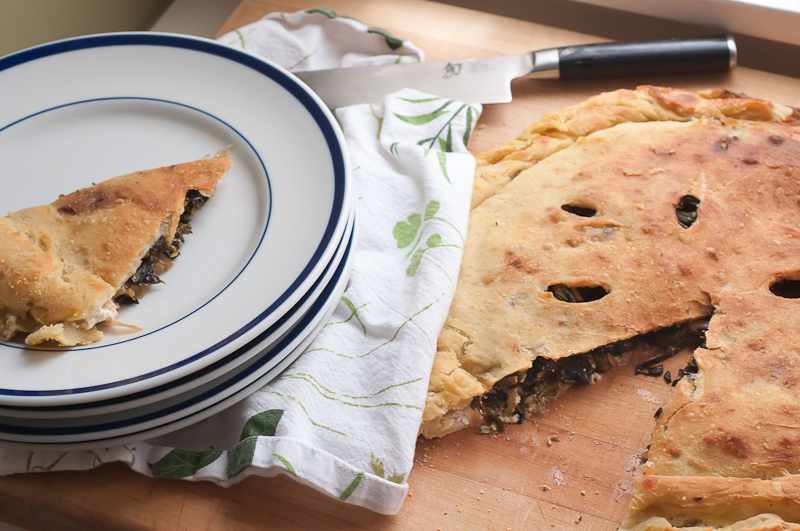 Double Crust Pizza with Broccoli Raab, Ricotta and Caramelized Onions
The inspiration for this pizza came from Mario Batali's Sfincione Di Patate, a beautiful Sicilian double-crust pizza with a potato-bread dough that he filled with ricotta and salami. Skipping the pig (of course), I opted to make something a bit thicker, with a deep pile of richly caramelized onions, wilted bitter greens, and a generous dose of crushed red pepper and orange zest. 
Although I call for broccoli raab in the recipe, what I actually used was savoy cabbage raab, which I happened to find at the farmer's market. You could use any bitter green you like, or even spinach if you want a milder pie. The key is that they must be fully cooked and tender. You don't want a chewy texture in the greens to interfere with eating the crust and ricotta. In kitchen speak, we call this "hammered", as in "go ahead and hammer that broccoli raab."
If you wanted to go another direction, fennel and artichoke hearts would be amazing instead of the greens.
If you want to make the potato-bread crust, just jump right over to Mario's recipe (above). It works great. The dough is very soft and wet, which makes it a bit challenging to avoid tearing while stretching, so I would definitely recommend using a rolling pin and plenty of flour on your board. You can also use any other pizza dough recipe that you prefer, scaled to 2 1/2 cups (11.25 ounces / 318 grams), or even buy pre-made dough – enough for two 12-inch rounds. 
If you haven't made pizza before, don't start with this one! It is a big, heavy pizza that is a bit challenging to get in and out of the oven. That said, if you make it, it is quite a showstopper when this big ole' pie comes out! Another, safer, option, if you are worried about transferring the pie, is to just build and bake it right on a baking sheet, in rectangular form.
Double Crust Pizza with Broccoli Raab, Ricotta and Caramelized Onions
Vegetarian / Serves 4
Extra-virgin olive oil
2 large white onions (or 3 medium), thinly sliced
Kosher salt
1 pound broccoli raab (or other greens, see above), cut into 1/2" lengths
1/2 teaspoon crushed red pepper
Cornmeal
Enough pizza dough to make two 12-inch rounds (see above)
1 pound fresh ricotta (Calabro is best; otherwise drain if runny)
Zest of 1/2 orange
Heat a large skillet over medium-low heat. Add two tablespoons olive oil, the onions, and 1/2 teaspoon Kosher salt. Cook, stirring occasionally, until completely tender and deeply caramelized, at least one hour. If they start to burn at all, lower the heat. You can do this step the day before and refrigerate. Don't clean the skillet yet though…
Add two more tablespoons of olive oil and raise heat to medium high. When the oil is shimmering, add the broccoli raab, 1/2 teaspoon of salt, and the chili flakes and cook, stirring occasionally until completely tender. We aren't looking for crisp-tender here, these greens should be fully hammered, about 15 minutes. If it is getting there, add a few tablespoons of water and cover to steam them a bit. Taste and add more salt if needed.
Place a pizza stone in the oven and preheat to 475 degrees. Dust a peel generously with cornmeal. Roll out half of the dough to a 12 inch circle and place on the prepared peel. Brush the dough with olive oil. Spread the ricotta over the dough, leaving a 1-inch margin all the way around. Top the ricotta with the caramelized onions, broccoli raab, and orange zest. Roll the other half of the dough out to the same size and lay in on top. Press and crimp the edge all the way around. Cut a few vent holes in the top. Brush the top with more olive oil.
Check to make sure that the pizza is able to move freely on the peel. If not, carefully lift up an edge with a spatula and add more cornmeal. When you are satisfied that you can transfer it safely to the oven, do so. Bake until golden brown, about 25 minutes. Rotate it once after about 15 minutes to make sure it bakes evenly.
Carefully remove from the oven using your peel. Allow to cool at least 10 minutes before slicing and serving.