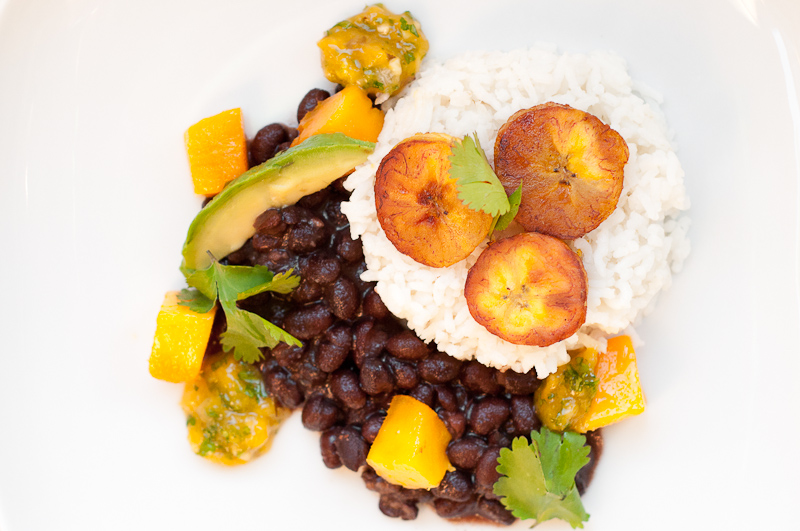 Coconut Rice with Black Beans, Plantains, and Mango Salsa
At my house, we eat food in styles from all over the world, but rice is far and away our most popular substrate. I'm always experimenting with new ways to cook rice as well as new things to serve with it.
Today's dish is Caribbean inspired, with coconut milk-scented rice, black beans, plantains, avocado, mango, and a mango salsa. It is especially good for serving to kids, because they can easily pick and choose the ingredients they enjoy. The mango salsa is moderately spicy, adding some extra interest for adults. (And that same salsa could be applied to a wide variety of other meals, ranging from Mexican to southeast Asian).
The coconut rice reheats really well, so you can easily make it the day before and just warm it up in the microwave at dinner time, making this whole meal something that can be thrown together in 20 minutes for a weeknight supper.
Plantains, of course, are in the banana family but are less sweet and more starchy. They are popular in much of the Caribbean and West Africa, as well as Guatemala. In this recipe I simply pan fry them to produce a delicious, slightly caramelized surface and a tender, creamy interior.
Coconut Rice with Black Beans, Plantains, and Mango Salsa
Vegetarian, vegan, and gluten-free
For the rice:
2 1/4 cups basmati rice (3 standard rice-cooker cups)
1 thirteen-ounce can coconut milk
For the sauce:
1 ripe mango, cubed
1 to 2 jalapeno or serrano pepper (or if you are insane, some part of a habanero), seeded and roughly chopped
1 clove garlic, thinly sliced
1/3 cup finely diced red onion
1 handful cilantro
1/2 teaspoon Kosher salt
For the dish:
2 tablespoons coconut oil or vegetable oil
2 ripe plantains, peeled and sliced into generous 1/4″ thick coins
Kosher salt
2 cups cooked black beans, heated, seasoned with salt (or if you like, with garlic, onions, epazote, etc. as you please)
1 ripe avocado, sliced
1 mango, cubed
1 handful cilantro
flaky sea salt
1 lime cut into quarters
For the rice: Cook the rice in your usual way, on the stovetop or in a rice cooker, but replace one can's worth of water with the coconut milk, then add in an extra quarter-cup of water.
For the sauce: Roughly puree all ingredients in a mini food processor. Just 10 seconds or so should be sufficient, as you want to retain some texture. Taste and adjust seasoning.
To complete the dish: Warm your serving bowls or plates. Heat the oil in a large skillet over medium-high heat. When it is shimmering, add the plantains in a single layer. Fry, until brown on one side, about 3 minutes. Flip and cook on the other side until browned and tender, about two more minutes. Sprinkle with Kosher salt.
To serve, you may either divide the rice among four bowls and top with the plantains, beans, avocado, mango, cilantro and sauce, or serve all of the ingredients separately and let diners make their own. Pass the lime quarters to squeeze over the finished plate as desired.