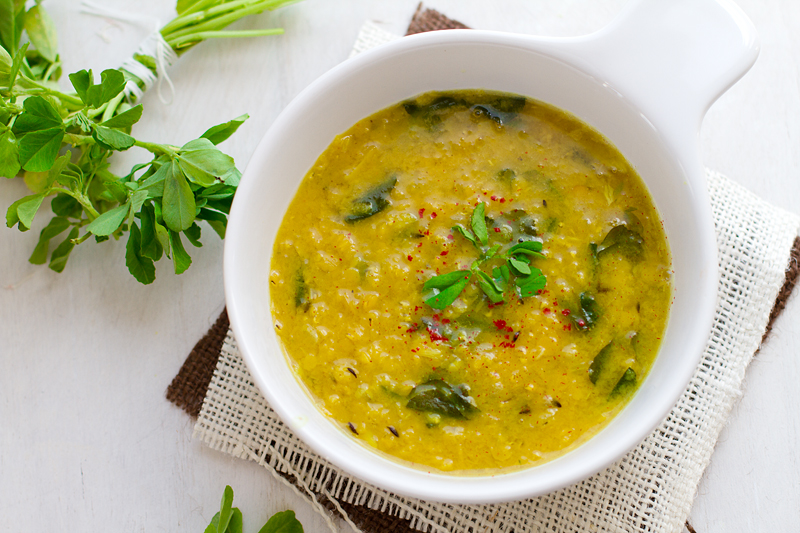 Indian Lentil Soup with Fenugreek (Methi Dal)
Today I want to bring you a recipe from my friend Sala Kannan, who writes the wonderful Veggie Belly. I think Sala has a great looking blog, with delicious vegetarian recipes that reflect a global sensibility. Her recent post on how to make the perfect dosa and idli at home blew my mind. I invited her to write a guest post because I thought you would all enjoy getting to know her, so please do jump over there and check it out.
When Michael invited me to guest post on Herbivoracious, I wanted to bring you a simple, yet delicious and satisfying recipe. Dal and rice is a humble, comforting, every day meal in India. I grew up eating a wide range of dals (lentils), but my favorite is a mild red dal with a little fresh fenugreek or baby spinach stirred in.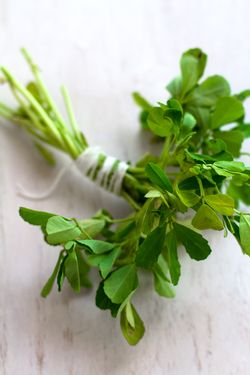 Fenugreek, also called methi in India, is a beautiful herb with a pleasantly bitter taste and a ton of medicinal properties. The little leaves wilt easily, so all you have to do is stir the fenugreek into the dal in the last few minutes of cooking.
Fresh fenugreek is available in Indian and Asian stores. Substitute with 2 tablespoons dried fenugreek or 1 cup spinach, or both. You can use any kind of lentils in this recipe, I love the color and texture of red lentils for this recipe.
Serve this fenugreek dal as a soup, or as a main dish with some steamed rice or Indian flat bread (like rotis, chappatis or naan). But my personal favorite accompaniment to the dal is my south Indian tomato rice!
Check out more of Veggie Belly's lentil recipes and Indian recipes!
Red Lentils with Fenugreek or Methi Dal
Vegetarian, vegan, and gluten-free / Serves about 4
1 tablespoon canola oil or ghee 
½ teaspoon cumin seeds 
1 thai chili or jalapeno, slit 
1 small onion, diced 
1 tablespoon minced ginger 
1 tablespoon minced garlic 
1 cup red lentils 
3/4 teaspoon ground turmeric 
1 cup fresh fenugreek leaves (substitute with 2 tablespoons dried fenugreek or 1 cup of fresh spinach or both) 
1 tablespoon, or to taste, lemon juice 
Salt 
Heat the oil in a medium saucepan. Add cumin and chili into the oil. When cumin sizzles, add onion and sauté on medium heat till the onion is soft. Add the ginger and garlic and cook 2 more minutes. 
Add lentils and turmeric to the saucepan and stir. Pour 4 cups of water, and bring to a boil. Reduce heat to low, cover the saucepan, and simmer till the lentils are cooked, about 12 minutes. Cooking time may vary depending on the lentil you use. 
While the dal is cooking, wash the fenugreek, pluck the leaves and tender stems, and discard the rest. Measure out 1 cup of plucked fenugreek. 
When dal is almost done cooking, stir in the fenugreek leaves (or dried fenugreek and/or spinach), and boil for 2 minutes. Stir in lemon juice, and salt. 
Serve hot with tomato rice.