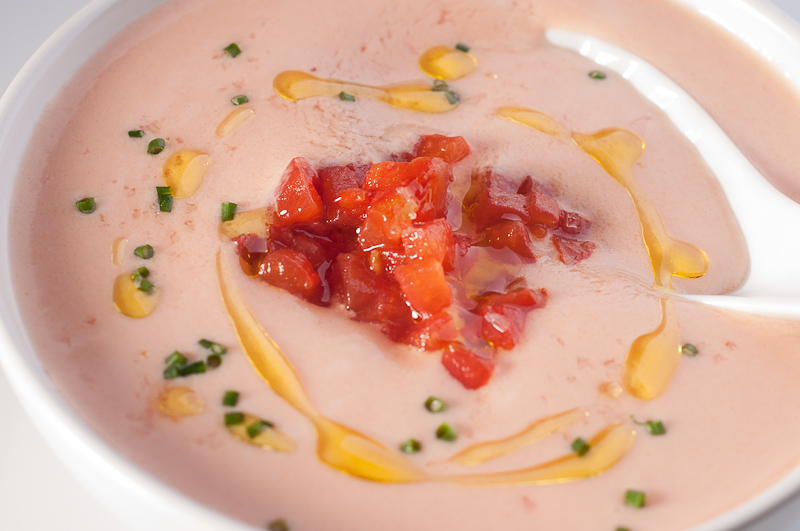 When you think of garnish, you probably picture a sprig of parsley or mint, a sad radish rose, a carrot curl, or doodle of sauce, or some barely edible flower that has decorated plates for a hundred years – and still does in some quarters. If so, I'm guessing you don't spend a lot of time on them for your average homecooked meal. The purpose this type of garnish serves is purely visual, and the aesthetics are dubious at best. 
There is a much better way!
Well chosen garnishes can completely transform your food with minimal effort. They add color, yes, but also complementary tastes, aromas and textures.
Have you heard of the concept of sensory specific satiety? Psychologists have studied this phenomenon in great detail. Basically it means that your palate quickly tires of a single taste, but will revive quickly when offered something different. 
In many food cultures, individual dishes aren't often garnished, but a whole meal consists of many small plates. Some of these will be freshly made, while others will be from the pantry or refrigerator, so it isn't a huge burden on the cook. Korean meals come with a wide variety of banchan. Indian thalis typically have a selection of chutneys, pickles, pappadam, breads, raitas and so forth to complement the main dishes.
This approach isn't so common in Western cuisines. Even if we have more than one dish, they are often served in courses. This makes garnish even more important, lest satiety kick in and the dish grow tiresome. 
Many times you can garnish with an herb whose flavor is already cooked in, to reinforce the effect. For example, celery leaves on a celery soup or cilantro leaf on a curry with coriander seeds. Because these garnishes are fresh, they still have the aromatic high notes that cooked food loses. Applied at the last moment, the warmth of the dish will send those aromas into the air, whetting everyone's appetite.
Here are some ideas for simple garnishes that actually elevate a dish, not just decorate it.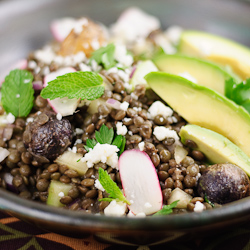 Fresh herbs: I know I made fun of parsley sprigs, but parsley and other fresh herbs can be fantastic. They should go on the food, not next to it, and the flavor should make sense in the context of the dish, like the mint and parsley on this Latin-American French Lentil Salad.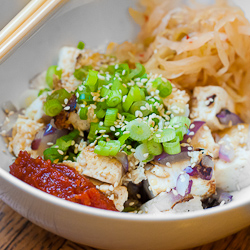 Vegetables: finely diced cucumbers, thinly sliced jalapeno, cherry tomato halves, and quick fresh salsas add crunch and refreshment. I especially love green onions, like on this Tofu and Kimchi Dinner for One.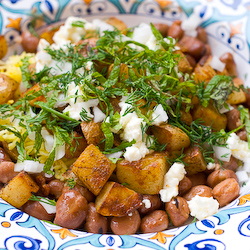 Cheese: Parmigiano reggiano, pecorino romano and grated cheddar are all obvious choices, but don't forget crumbled feta or ricotta salata.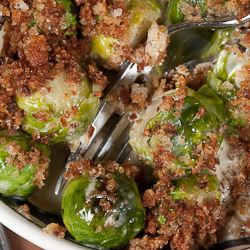 Homemade breadcrumbs add great crunch; they can be plain or flavored with garlic or herbs. Adding them for just the final few minutes of cooking in the Brussels Sprout Gratin ensures they stay crisp.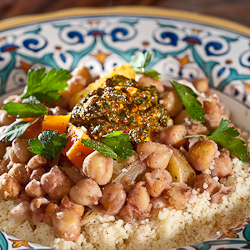 Simple sauces like pesto, chermoula or chimichurri come together in just a few minutes. A mini-food processor is the ideal tool for making them in small batches.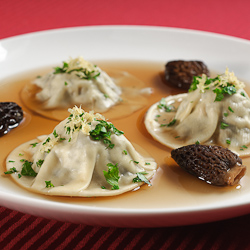 Citrus zests create incredibly appetizing aromas when grated with a microplane at the very last moment. Lemon, of course but don't forget oranges, lime, grapefruit and so on.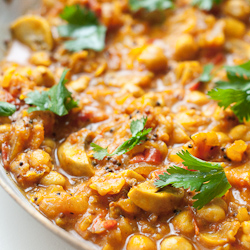 Spices require a delicate hand, but a very light dusting of smoked paprika or garam masala can be amazing. In Indian cuisine, they may be quickly cooked into a tempering - sizzled in ghee and drizzled on the main dish (like in this Chana Mushroom Masala).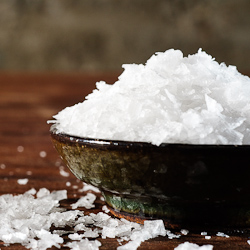 Finishing salts add texture and salinity. There is something very different about salt on the surface of a dish, meeting your taste buds before the rest of the food vs. salt throughout.
So, what are some of your favorite garnishes?