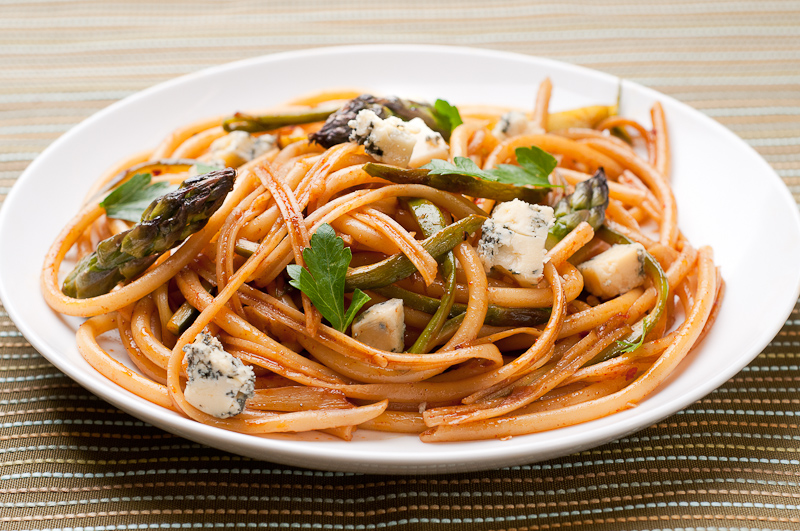 Bucatini with Smoked Asparagus and Gorgonzola
Roy Finamore, one of the editors for my book, had a few questions about the method for smoking the asparagus in this recipe, so I figured I'd take the opportunity to make that component again and use it in a different dish. I thought it would be fun to cut the asparagus lengthwise, so it mimicked the shape of a noodle, and then use it in a pasta dish.
NOTE: I no longer recommend jury-rigged stovetop smoking. I've since learned that creating smoke in a low-oxygen sealed environment like this creates unnecessarily high levels of carcinogens. See my Smoked Tofu Buns recipe for a safer alternative if you don't have your own method of smoking.
Stovetop smoking is a pretty simple deal, you just have to improvise with the equipment you have on hand, as I describe in the steps below. Since you are cooking in a dry, closed pot, you are essentially making an oven on the stovetop, but filled with fragrant smoke. Be sure to use a pot that isn't a precious heirloom, because it will likely get slightly discolored on the inside. Once you get the hang of it and get a sense of how much smoke is needed to impart a delicious aroma without overpowering the food, you may want to do this all the time.  Please make sure you have adequate ventilation before generating smoke, and only undertake this recipe if you know how to do it safely.
If you don't want to make the pasta, you can still use this method of smoking the asparagus, and then just sear the whole spears in a very hot saute pan with olive oil and a sprinkle of salt for a minute or two.
By the way, the easiest way to trim asparagus is just to grab a few spears at a time and snap them. They will naturally break at the spot where the tender and woody parts meet. Then use a knife to remove just another 1/8″ to neaten up the appearance.
Bucatini with Smoked Asparagus and Gorgonzola
Vegetarian / Serves 4 / 40 minutes
1/2 cup wood chips (first choice: cherry wood)
16 very thick asparagus spears, woody ends trimmed
1 tablespoon extra-virgin olive oil
3 tablespoons butter
4 garlic cloves
1 teaspoon smoked paprika
1/2 teaspoon crushed red pepper
2 tablespoons aged balsamic vinegar (or balsamic reduction – not thin grocery store balsamic!) – optional
Kosher salt
1 pound bucatini
6 ounces gorgonzola, crumbled in large chunks
Flat leaf parsley
Fresh ground pepper
Place the wood chips in the bottom of a pot that you don't mind discoloring. Set a steamer basket (or other improvised rack) above the chips. Coat the asparagus with the olive oil and place it in the basket. Cover the pot and set over a medium-high burner. After about 5 minutes, lift the lid and confirm that there is some smoke being generated. If there is none, raise the heat a bit. If there are billowing clouds, lower it. Re-cover and cook for about 10 minutes, until the asparagus is tender when poked with a knife. See note on safer smoking above. Remove the asparagus and allow to cool enough that you can handle it.
Cut off the asparagus tips (and about 1/2″ of stem) and reserve. Slice the remaining stem lengthwise into several strands, about the same diameter as your pasta.
Bring a very large pot of well-salted water to a boil, and warm your serving bowls.
Place a large skillet over medium heat. Melt the butter. Add the garlic, smoked paprika, and red pepper. Cook for about two minutes, until the garlic is tender but not browned. Add the asparagus and a big pinch of salt and cook one more minute. Turn off heat.
Boil the pasta until just short of al dente. Return the skillet to medium=high heat and transfer the pasta along with some of the water clinging to it into it. Add the aged balsamic if using. Use tongs to toss the pasta with the asparagus and seasonings. Add a little more of the pasta water if the dish seems "tight". Taste and adjust seasoning.
Divide the pasta among the warmed serving bowls. Garnish with the reserved asparagus tips, the gorgonzola, a few leaves of parsley, and a hearty grind of pepper. Serve immediately.