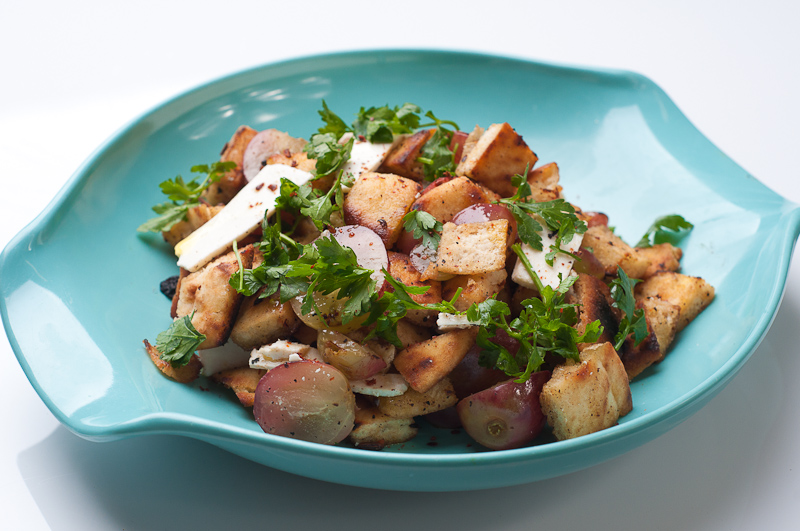 Warm Grapes, Toasted Pita Bread and Ricotta Salata
I'm not sure whether to describe this dish as a salad, an appetizer, or a side dish. Whatever you call it, the combination of sweet and salty, crunchy and juicy, herbaceous and spicy is exciting and a little unusual. You could serve this as part of a meze, or an accompaniment to anything grilled in a Meditteranean or Middle Eastern vein.
Ricotta salata is a variation on fresh ricotta that has been pressed and salted. I like to use it for grating or shaving to finish a dish. It is indeed quite salty, so you don't want to eat big chunks of it, and you need to go easy on adding additional salt when using it.  If you don't have ricotta salata, feta would also work well here.
I'm hard pressed to choose a favorite set of spices to flavor this dish, so I've offered a few options below. If you twisted my arm, I'd probably pick the "fresh zaatar" variation, but try a few and and let me know which you like best.
Oh, and a bit of news: the cookbook I'm working on has had a schedule change. It will now be released by Harvard Common Press in spring 2012, rather than fall 2012 as we previously thought. I'm really excited to have it on shelves soon!
Warm Grapes, Toasted Pita Bread and Ricotta Salata
Vegetarian / Serves 2 / 10 minutes
2 tablespoons extra-virgin olive oil + more for drizzling
pinch of chili flakes or Aleppo pepper
1 thick pita bread cut into 1/2″ squares
1 cup grapes, halved (and seeded if neceessary)
squeeze of lemon juice
Choose one of these spice mixtures (2-4 teaspoons total):

Toasted fennel and cumin seed
"Fresh zaatar" – toasted sesame seeds, sumac, fresh thyme leaves

2 or 3 ounces ricotta salata cheese, thinly sliced or crumbled
handful of parsley leaves
Put the olive oil in a small skillet over medium-high heat. When it is hot, add the chili flakes and pita. Cook, tossing occasionally, until the pita is nicely browned and somewhat crispy. Transfer the pita to a bowl and put the pan back on the heat.
Without adding any more oil, saute the grapes for about 30 seconds, until warmed through but not falling apart. Add the grapes to the pita bread.
Add a generous squeeze of lemon juice and spice mixture and toss. Add the cheese and toss again, then taste and adjust seasoning. Ricotta salata is quite salty, so you may not need any salt, or just a pinch.
Divide on serving plates, or leave in the large bowl. Finish with a drizzle of excellent olive oil. If you happen to have an orange-scented one like this beauty from ChefShop, this is a perfect spot to use it. Serve warm.