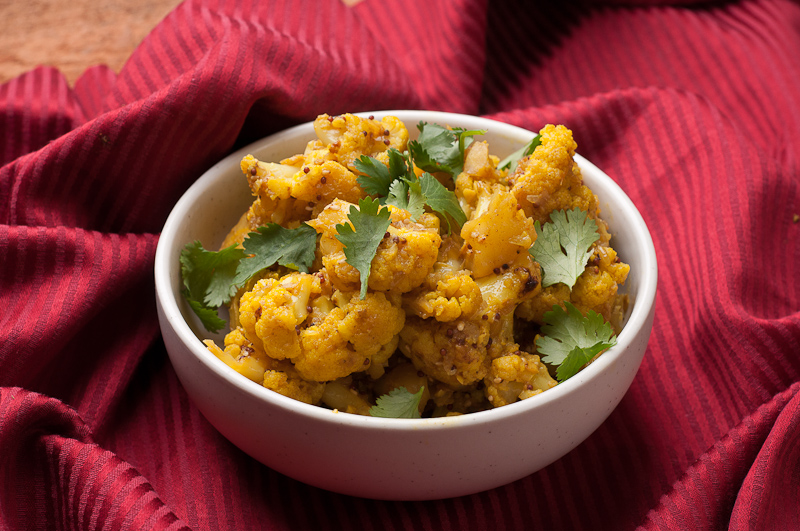 Cauliflower curry (gobi masala)
Cauliflower curry (gobi masala) is a great Indian dish to have in your back pocket, because once you know the basic method you can knock it out quickly, varying the spicing to suit your mood and your guests. (You shouldn't actually keep it in your back pocket though, the turmeric causes terrible stains.)
My version of this curry comes out neither saucy nor completely dry. It is important to pay close attention towards the end of cooking, because you want the cauliflower to be thoroughly tender, but not breaking down into mush. It helps to make the florets as evenly sized as possible.
This same recipe can just as easily be used with any other vegetable that will hold its shape and not give up too much water, such as beets or turnips. For these firmer vegetables, you might want to parboil or microwave them first, to reduce the final cooking time.
One possibly less familiar spice you'll see in the ingredient list is asafoetida, otherwise known as hing, which is the ground-up gum from a particular plant rhizome. Asafoetida is pungent and has a flavor somewhat akin to aged garlic. It is used in small quantities to add savor to curries. It is also reputed to aid digestion.
Serve this up with basmati rice, dal, raita, and tamarind chutney and/or some Indian pickles for a satisfying feast.
Gobi Masala (Cauliflower Curry)
Vegetarian, vegan, and gluten-free / serves 4 as part of an Indian meal
2 tablespoons vegetable oil
1 tablespoon mustard oil (if not available, use 1 more tablespoon vegetable oil)
1 tablespoon black mustard seeds
1 medium onion, minced
1 1/2 teaspoons Kosher salt
8 cloves garlic, minced
1 tablespoon grated fresh ginger
1 tablespoon turmeric powder
1/2 teaspoon ground cumin
1/4 teaspoon cinnnamon
1/2 teaspoon cayenne pepper (or more, to taste)
pinch asafoetida (hing) powder (see comments discussion if you need gluten-free)
1 large cauliflower cut into bite sized florets
1/2 teaspoon garam masala
cilantro
Put the vegetable and mustard oil in a pot that holds at least 4 quarts and place over medium-high heat. When the oil is hot, add the black mustard seeds. Cook, watching carefully, until they change color, about 30 seconds. Immediately add the onion and salt and lower the heat to medium.
Cook the onion for about 5 minutes, stirring occasionally, until translucent and darkened. Add the garlic and ginger and cook for another minute or two. Meanwhile, gather the turmeric, cumin, cinnamon, cayenne and asafoetida in a small bowl. Dump the mixture of spices into onions, give a quick stir, and immediately add the cauliflower (to avoid burning the spices).
Toss the cauliflower through the spices, add 1/4 cup of water, and cover the pot loosely. Cook, stirring occasionally, until the cauliflower is completely tender but not falling apart, about 15 minutes. Add a bit more water if needed to develop just a very small amount of sauciness.
Stir in the garam masala and taste. Add more salt or spices as needed. Put in serving bowl. (Optional: for extra flavor, fry more mustard seeds and cumin seeds in a little more oil, for about 20 seconds, and drizzle over the finished dish. This is called tempering, and you can play with which spices are used.) Garnish with the cilantro, and serve immediately.