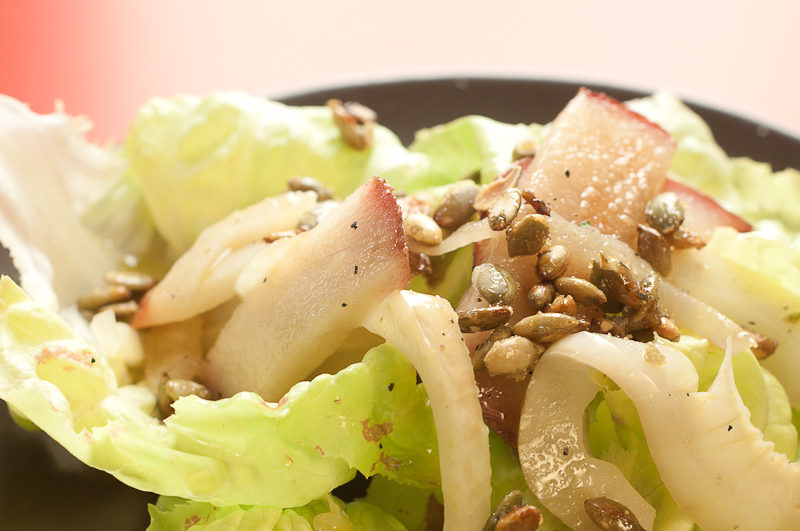 Warm salads are a nice change of pace from the regular run of cool green salads, especially on a chilly evening. In this one, cooking the fennel makes the taste milder and sweeter, so even those folks who don't enjoy the anise flavor may like it.
I'm forever making variations of this candied pumpkin seed garnish. You might want to cook up a double batch, as they have a tendency to disappear if you leave them within reach. They make killer snacks for cocktails as well. Just remember that melted sugar gives wicked burns, so be careful getting them out of the skillet and allow to cool thoroughly before handling.
For other uses, you can spice the seeds up with cumin, ancho chili powder or smoked paprika.  I can't make them with other nuts, but don't let that stop you!
Naturally you can do this salad with apple instead of pear. A bit of goat cheese or gorgonzola makes a delicious addition.
Warm Fennel Salad with Pears and Candied Pumpkin Seeds
Vegetarian, vegan and gluten-free / Serves 6
1/2 cup hulled (green) pumpkin seeds – try the bulk section of a natural foods store
1 tablespoon sugar
1 pinch cinnamon
flaky sea salt (Maldon (aka the world's greatest salt)!)
1 head butter lettuce, washed and thoroughly dried
3 tablespoons extra virgin olive oil (or butter, if you prefer)
1 head fennel, sliced about 1/8" thick 
1 ripe pear of a variety that is eaten firm, cored and sliced in to 1/4" by 1/4" batons
1 tablespoon apple cider vinegar
fresh ground black pepper
Line a plate with aluminum foil (or use a silpat). Put the pumpkin seeds in a small, dry skillet over medium heat. Toast, stirring frequently until starting to become fragrant, about 5 minutes. Add the sugar, cinnamon, and a big pinch of sea salt and keep cooking, stirring occasionally, until the sugar melts and caramelized. Carefully turn the seeds out onto the aluminum foil. They will all stick together, this is ok – we'll break them up in a minute.
Set up 6 small serving plates and arrange a few nice leaves of butter lettuce on each of the plates. Heat a medium skillet over a medium-high flame. Add the olive oil, and when it is hot, add the fennel and 1/4 teaspoon of salt and saute until tender, about 5 minutes. Reduce the heat to medium-low, add the pear, and cook for two more minutes.
Turn off the heat. Add the apple cider vinegar and toss gently to coat. Allow to cool for two minutes. Taste and adjust seasoning. Divide the fennel and pear among the serving plates. Drizzle any remaining dressing from the pan over the saladds. Break up the pumpkin seed clusters with your hands and put a generous amount on each salad. Add a grind of black pepper and serve immediately.