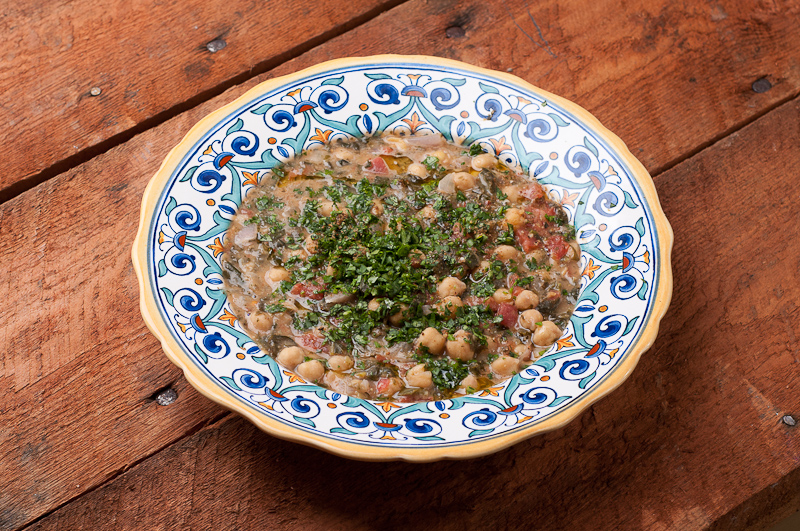 Chickpea, Spinach and Tomato Soup
This soup was pure improvisation. I'd allowed the vegetable drawer to go almost completely empty, and needed to feed seven folks for dinner with no time to shop. The weather is still cool here, so a warm, belly filling soup sounded right. I put a full pound of chickpeas in the pressure cooker, figuring that I could decide on a flavor profile closer to dinner time. Home cooked chickpeas are miles better than canned.
I didn't want a thin broth, and I didn't feel like cream, so my first move was to puree some of the beans in their own cooking liquid. This created a pleasing texture, but not much flavor. Lemon juice was a good start on some acidity, but then the inspiration for chopped tomatoes struck and the soup started to come together. Spinach kicked in some color and another flavor, and naturally I wanted plenty of garlic and onions.
At this point, the flavor profile could have easily gone Italian or North African. I opted to go the latter route, so I finished with a hefty dose of dukkah. It was probably still on my mind from last week's Myhrvoldian amuse bouche. If you wanted to go Italian, scratch the dukkah and add fresh grated parmesan or pecorino, and/or fennel tops or even fennel pollen.
I really liked the results. It was filling but left me feeling nourished, not stuffed. I hope you will use this as a template for your own improvisation! I served it with this pizza bianca which I topped with caramelized onions and blue cheese. (If you make that pizza bianca, don't be scared by the shockingly wet dough, but you might up the flour by an ounce or so.)
Chickpea, Spinach and Tomato Soup
Vegan and gluten-free / Serves 6
Prep time: 30 minutes
Cook time: 2 hours (mostly bean boiling time)
1 pound dry chickpeas (garbanzos), rinsed and picked over
2 teaspoons Kosher salt
2 tablespoons extra-virgin olive oil + 2 more for saute + more for garnish
10 ounces frozen chopped spinach, defrosted
twenty-eight ounce can diced tomatoes (fire-roasted is a nice option)
juice of 1 lemon
1/2 teaspoon chili flakes
1 red onion, finely diced
8 cloves garlic, minced
fresh ground black pepper
1/2 cup minced parsley (or a mixture of parsley and cilantro)
dukkah (optional; you could also use a small pinch of cumin – don't use as much as dukkah!)
Either soak the beans overnight and then boil until tender, or cook in a pressure cooker according to your manufacturers directions. (For my pot, that is about 40 minutes at high pressure with a natural pressure release). The beans should be thoroughly tender. Reserve 2 cups of the cooking liquid.
Puree 1 1/2 cups of the beans with 2 cups of the cooking liquid, 2 teaspoons Kosher salt, and 2 tablespoons of the olive oil. Strain. Put the whole chickpeas, pureed beans, spinach, tomatoes, lemon juice and chili flakes in a large pot. Stir and bring to a simmer.
Put the remaining 2 tablespoons of olive oil in a small frying pan over high heat. Saute the onion until softened. Add the garlic and saute for 30 more seconds. Add the contents of the frying pan to the soup. Stir, taste, and adjust salt and lemon juice. Add a little water if needed to create a pleasing soup texture. It should be fairly thick but not a stew.
To serve, ladle the soup into bowls. Top with a drizzle of olive oil, fresh ground pepper, lots of minced parsley, and a generous dusting of dukkah.