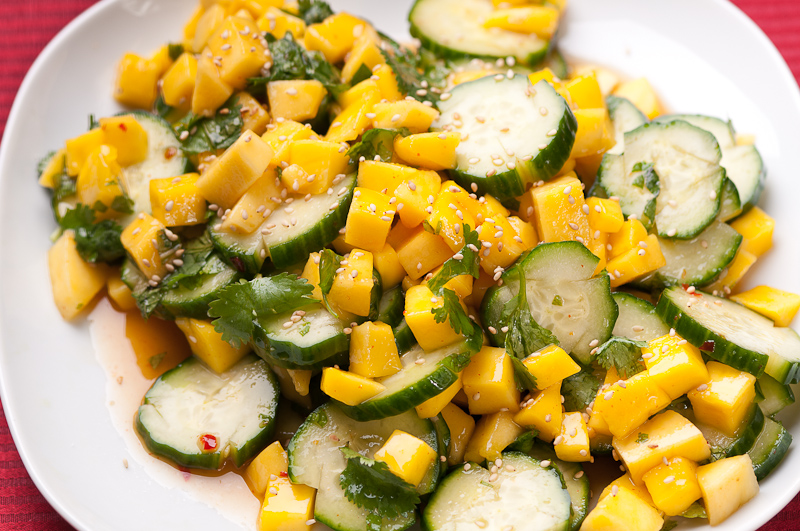 Cucumber and Mango Salad with Sweet Chili Dressing
We always have Thai sweet chili sauce around the house. It is more sweet and tangy than spicy, but with just enough kick to add some interest. Sure, you could make it yourself, but the beauty is in having it in your refrigerator for those moments when you need to turn some basic ingredients into dinner in minutes. It can be glazed on tofu, used as a table condiment, or, like in this recipe, made into a quick salad dressing.
This salad is great when you need something to cut the richness of a coconut-milk curry, or the saltiness of a stir fry. It comes together in just a few minutes if you have developed some knife skills. VeganYumYum has a nice post on a quick way to cut a mango into cubes.
A more authentic Thai version of this would undoubtedly feature fish sauce. You can roughly approximate that umami hit with a teaspoon of soy sauce or shiitake mushroom broth if you are so inclined. 
Other ideas: toasted and roughly crushed peanuts, papaya, pineapple, thinly sliced shallots, fresh ginger, shiso, sesame oil.
Cucumber and Mango Salad with Sweet Chili Sauce
Vegetarian, vegan, and gluten-free (check the chili sauce) / Serves 4 / 10 minutes 
6 tablespoons sweet chili sauce
1 tablespoon rice vinegar
1/2 teaspoon Kosher salt
2 ripe mangoes, peeled and cut into 1/2" cubes
1 big English cucumber, cut into 1/8" slices
1 handful mint leaves
1 handful cilantro leaves
toasted sesame seeds
Whisk together the sweet chili sauce, rice vinegar and Kosher salt.
Toss the dressing with the mango, cucumber, mint, and cilantro.
Serve on cold platter, garnished with the sesame seeds.