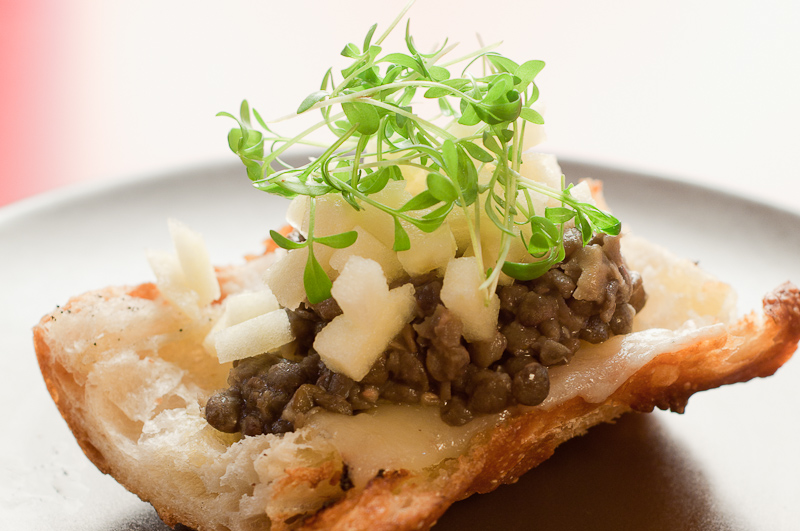 Crostini with Truffled Cheese, Lentils Du Puy and Apple
This was the first course of a little dinner party I threw together for some friends a few weeks ago. It is really easy to make, and you could easily prepare the lentils the day before and then just warm them up when you are ready to serve. The apples provide a sweet, fresh counterpoint to the earthy flavors of the truffle and lentils.
There are a number of truffled cheeses on the market; a good cheesemonger will usually have one or two. For this dish, look for a semi-soft sheep's milk cheese that will melt well.
The lentils should be either lentils du Puy or black lentils. Both of these varieties hold onto their shape when tender. Plain brown lentils won't work as well. Getting the right texture on the lentils at serving time is crucial to making this delicious. You want them to be neither dry and mealy nor unpleasantly wet. Stirring in a little more olive oil at the last minute is a big help.
Don't be fooled by the picture – that isn't the ideal bread to serve this on! I was hampered by the lack of a proper bread knife in the kitchen I was using; it would only crush this baguette when I tried to cut it so I had to improvise by cutting horizontally.
Crostini with Truffled Cheese, Lentils Du Puy and Apples
Vegetarian / Makes 8 crostini
2 tablespoons extra-virgin olive oil
4 cloves garlic, minced
1 cup lentils du Puy
1 teaspoon Kosher salt
8 small slices of crusty bread
more extra-virgin olive oil for brushing
8 slices semi-soft truffled sheep's milk cheese
1 apple, peeled, cored and finely diced
1 big handful spicy microgreens of your choice (or chervil would work)
Heat 2 tablespoons of oil in a medium saucepan over medium-high heat. Saute the garlic for 1 minute. Add the lentils and Kosher salt along with 2 cups water. Bring to a boil, reduce heat to a simmer, and cook, stirring occasionally until tender but not falling apart. Add more water if needed. Drain and cool to room temperature. Taste and adjust seasoning.
Brush the bread generously with olive oil on both sides and toast both sides until well browned on a grill or in a toaster oven, or under the broiler. Cover with the cheese and keep toasting until melted.
If the lentils seem a bit dry, stir in some more fruity olive oil.
Top each crostini with a spoonful of lentils. Don't pile them so high that it will be too hard to eat. Add a smaller spoonful of apples and a little pinch of the microgreens, and serve.