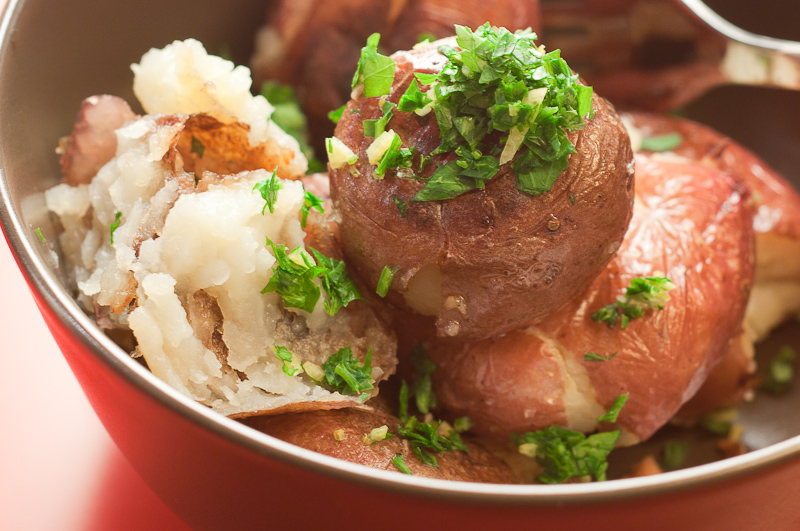 A whole head of garlic.
This is one of those recipes you can become famous for with your friends and family. It is very easy to make, you just have to have the nerve to use a whole head of fresh garlic and plenty of good olive oil, and the patience to roast the potatoes until the skins crisp up. Check the oven frequently to make sure you aren't burning the garlic.
Tom Douglas serves something similar to this as a side at his Greek-inspired Lola. The gremolata is my own little twist.
Gremolata is a simple condiment of finely minced parsley, lemon zest and usually garlic. It is traditionally served with osso bucco. Clearly we don't need any extra garlic on these potatoes though! The heat from the potatoes causes the gremolata give off a heady, appetizing aroma that adds just the right high note.
Crispy, Garlicky Smashed Potatoes with Gremolata
Vegetarian, vegan, and gluten-free
Serves 6
5 pounds small (golf-ball sized) waxy potatoes, any color
1/2 cup extra virgin olive oil
1 head garlic, cloves peeled and finely minced – not crushed
Kosher salt
big handful flat-leaf parsley leaves
zest of 1/2 lemon
flaky sea salt
Preheat oven to 450. Place potatoes in a pot with enough cold water to cover them and 2 tablespoons of salt. Put the pot over maximum heat, bring to a boil and allow to boil for 5 minutes. Drain.
Put the potatoes on a sheet pan and bake in the oven until fork tender. Remove the sheet from the oven and smash each potato fairly agressively, so that it flattens out some and develops big cracks, but doesn't totally mash. The bottom of a coffee mug works well for this.
In a small frying pan, heat the olive oil over medium heat. Add the garlic and saute for 2 minutes.
Spoon the garlic and oil over the potatoes, distributing as evenly as possible. Sprinkle with Kosher salt. Return the tray to the oven, raise heat to 500, and cook until the skins are crispy in many spots. This will take at least 20 minutes.
Mince the parsley and lemon zest together to make the gremolata. Put the potatoes in a serving bowl, being sure to gather up all the crispy bits garlic. Sprinkle the gremolata over the top, add a generous amount of flaky sea salt and serve immediately.