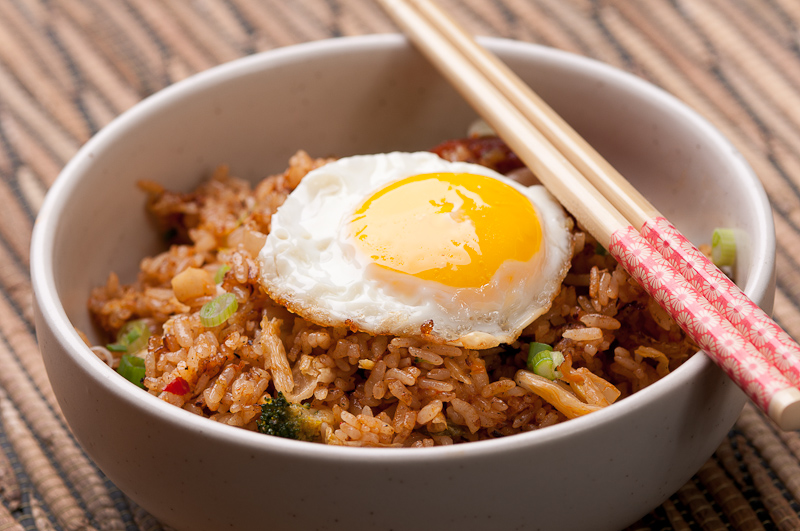 Kimchi fried rice (Kimchi Bokkeumbap)
I've gone completely mad for kimchi. I find the heat, crunch and pickled and slightly fermented flavor addictive. Kimchi fried rice is my latest obsession.
Fried rice serves three beautiful purposes at once: it is a way to use up leftover rice and vegetables, it offers a change of pace from plain rice, and it is so quick to make that it is perfect for a late-night supper or dinner for one.
A little patience is rewarded though: the longer you can let it cook, the more delicious crispy-crusted rice you'll have. You must use rice that has cooled overnight or at least for a couple of hours in the refrigerator, otherwise you'll have mush.
The classic Korean version of fried rice (Kimchi Bokkeumbap) is a bit different from Chinese fried rice that you may be familiar with. It doesn't generally contain scrambled egg, but there can be a fried egg with a soft yolk on top. Just like with bibimbap, the diner breaks the egg and uses the yolk to enrich the rice.
Koreans will generally use up kimchi that is starting to be overripe to make kimchi fried rice, but if you don't happen to have that on hand, normal jarred kimchi will be just fine. Squeeze out most of the liquid so it doesn't make the rice soggy, and chop it into thin strips.
If you are vegetarian, be sure to look at the ingredients to find a type of kimchi that doesn't contain seafood. There is a vast variety of kimchis, made from different types of cabbage and other vegetables, and at a huge range of heat levels from mild to post-apocalyptic, so if the first one you try doesn't suit, don't give up! Personally I'm addicted to the stuff.
Besides the kimchi, you can add modest amount of other finely cut vegetables or tofu. If they are raw, cook them at step 2 before adding the rice. If they are already cooked, you can just toss them in at the same time as the kimchi.
Vegetarian Kimchi Fried Rice (Kimchi Bokkeumbap)
For vegan, double check the kimchi and omit the egg
For gluten-free, double-check the kimchi
Serves 2 as a one dish meal or 3 as a side dish
2 tablespoons vegetable oil
2 cloves garlic, thinly sliced
2 green onions cut into 1″ lengths + 1 more thinly sliced
optional: 3/4 cup vegetables or tofu cut into very small pieces (already cooked is ok too)
3 cups cooked and refrigerated rice (day old is best)
3/4 cup drained and chopped kimchi (squeeze out most of the moisture)
1/2 teaspoon sesame oil
3/4 teaspoon Kosher salt
optional: chili paste, if your kimchi isn't spicy enough (kochujang paste would be ideal)
optional: 1 fried egg per person (sunny side up, runny yolks)
Pre-heat your largest cast-iron skillet or wok over maximum heat. Add the oil, and immediately follow that with the garlic and green onions. Stir-fry for 20 seconds.
If using optional raw vegetables or tofu, add and stir-fry until cooked through (vegetables) or lightly browned (tofu).
Add the rice and toss to coat with the oil. Continue to fry over high heat, tossing only occasionally and mostly letting the rice stay in contact with the pan so that it has time to brown. Keep this up as long as you can stand it, because the more brown crispy bits you develop, the more delicious it will be. You want to break the rice up somewhat but also leave some smallish clumps.
Add the kimchi, sesame oil, salt and optional chili paste and stir-fry for one more minute. (If using previously cooked vegetables, add them now too).
Serve immediately, topped with the remaining green onion and the fried egg if you are using it.