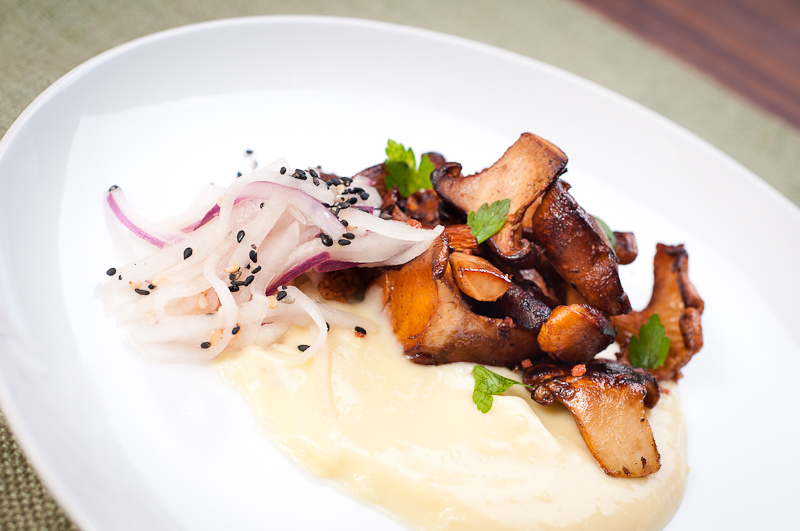 Chanterelle Mushrooms, Corn Sauce, Asian Pear Slaw
I love chanterelles with corn, and I love corn with ginger. Using the transitive property of delicio-algebraics, I determined that I'd like chanterelles with ginger. Heck, why not all three together?
Grant Achatz has famously made a corn sauce in sheet form, by cooking pureed corn kernels until the natural starch thickens the juice, and then freezing it in a thin sheet, to be draped over your completed dish. I used the first part of this idea here, but skip the potentially hairy part of freezing the sauce and then trying to get it off of the wax paper. Instead, I just served the sauce directly. It has a lovely, velvety texture and an intense flavor of sweet corn accented with ginger.
The quick slaw of Asian pear with red onion and sesame oil add a nice bit of crunch and sweetness. You could take this element and serve it with almost any kind of fritter or even on a fusion taco with good results.
Chanterelle Mushrooms with a Corn Sauce and Asian Pear Slaw
Vegetarian and gluten-free; vegan if you omit or substitute for the butter
Serves 4 as an appetizer
30 minutes 
kernels from 2 ears of corn
1/2 teaspoon grated fresh ginger
1/2 teaspoon sugar
Kosher salt
1 tablespoon unsalted butter
2 tablespoons vegetable oil
12 ounces chanterelle mushrooms, cleaned and halved lengthwise
1/2 cup finely julienned Asian pear (aka apple-pear)
1 tablespoon finely julienned red onion
1 tablespoon Asian toasted sesame oil
1 tablespoon lime juice
1 tablespoon toasted black sesame seeds
flaky sea salt (Maldon (aka the world's greatest salt)!) or other finishing salt of your choice
a few leaves of flat-leaf parsley
In a mini food processor or blender, puree the living heck out of the corn kernels, ginger, 1/2 teaspoon of sugar and 1/2 teaspoon of Kosher salt. Let it run a good couple of minutes. Strain the resulting mixture very thoroughly, using either several layers of cheesecloth or multiple passes through first a coarse and then a very fine sieve. Be sure to extract and reserve as much liquid as possible. Discard the solids.
Put the corn liquid and butter in a small saucepan over low heat and bring to a simmer, whisking occasionally. As soon as it comes up to temperature, you will see it begin to thicken rapidly. Continue to cook for 2 more minutes. Taste and adjust seasoning. Take a spoonful and allow to cool slightly. It should have the texture of pudding. If it is too thick, add water, a tablespoon at a time. Set aside to cool to room temperature.
Heat the oil in a large skillet over a high flame. Add the mushrooms, season with big pinch of salt, and fry, stirring occasionally, until tender and well browned, about 5 minutes.
Meanwhile, toss together the Asian pear, red onion, sesame oil, lime juice, and a big pinch of salt. Taste and adjust seasoning.
To serve, whisk the corn sauce, then put about 2 tablespoons of it in the center of each of 4 small plates, spreading it slightly with the back of a spoon. Top with 1/4 of the mushrooms, 2 tablespoons of the Asian pear slaw, a few flakes of sea salt, and a few leaves of parsley. Serve immediately.