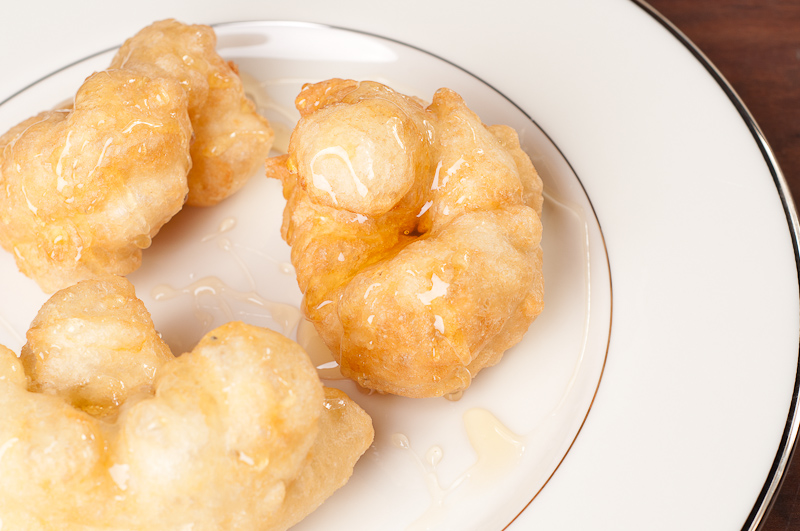 Bunuelos (or Bimuelos) with Honey – Sephardic Hanukkah Donuts
When my friend Lara Ferroni sent me a review copy of her new book, Doughnuts: Simple and Delicious Recipes to Make at Home
, my kiddo and I spent a fun hour on the couch, leafing through and dog-earing the pages of all of the delicious desserts we want to make. When we were done, pretty much every page was bent!
If you enjoy making treats at home, you definitely want to own this book. Lara has managed to pack a tremendous amount of solid, basic information about how to make a wide variety of doughnuts into this approachable and beautifully photographed volume. There are fundamental recipes for everything from classic raised to gluten-free cake doughnuts, as well as lots of specialty items like Hawaiian malasadas, and every flavor from German Chocolate to Brandied Eggnog.
In honor of Lara's book, I thought I would share this recipe for bunuelos (aka bimuelos), a rustic yeast-raised and fried donut that the Sephardic side of my family makes. For Hanukkah we have them with the traditional honey; any other time they are also terrific with powdered sugar. There is also a Passover version made with matzoh, but honestly that doesn't hold a candle to the flour-based doughnut.
The dough for bunuelos should be quite wet. This isn't a doughnut that you roll out. You wet your hands, grab a piece of dough, form a rough ball and poke a hole with your thumb, then drop it straight in the oil. The result is unfussy, light and airy, and altogether insanely delicious. They are so simple to make that you could stir up the dough in just a few minutes before dinner, and fry them up afterwards to entertain and thrill the kids.
Bunuelos (or Bimuelos) with Honey – Sephardic Hanukkah Donuts
Vegan if you use powdered sugar instead of honey
Yields about 14 donuts 
1 package dry yeast (2 1/4 teaspoons)
2 cups warm water, divided
1/2 teaspoon salt
1 1/2 teaspoons sugar
1 tablespoon oil
3 1/4 cups all-purpose flour (14.6 ounces)
oil for deep frying
honey (or powdered sugar)
Stir the yeast into 1 cup of the warm water and allow to proof. (If you don't see bubbles after a few minutes, buy new yeast.) Mix in the remaining cup of water along with the salt, sugar and tablespoon of oil. Slowly stir in the flour, and keep stirring until you have a smooth, wet dough. Cover and allow to rise in a warm spot for at least 1 hour. (I've allowed it to go four hours, stirring down occasionally, and it only gets more delicious).
Put 3 inches of oil in a pot suitable for deep frying and bring to 370 degrees F. Line a tray with paper towels. Get a bowl of water ready.
Moisten your hands in the bowl of water and grab about 3 tablespoons of the dough. Quickly form it into a rough ball and poke a hole through the center. These are supposed to be rustic, don't spend any time trying to make them perfect. Drop carefully into the oil. Repeat for as many as will fit comfortably in your pot without crowding. Fry until golden brown on one side, then flip and brown the other side. Use a slotted spoon to remove to paper towels.
Drizzle with honey (or offer honey for dipping, or dust with powdered sugar) and serve immediately.