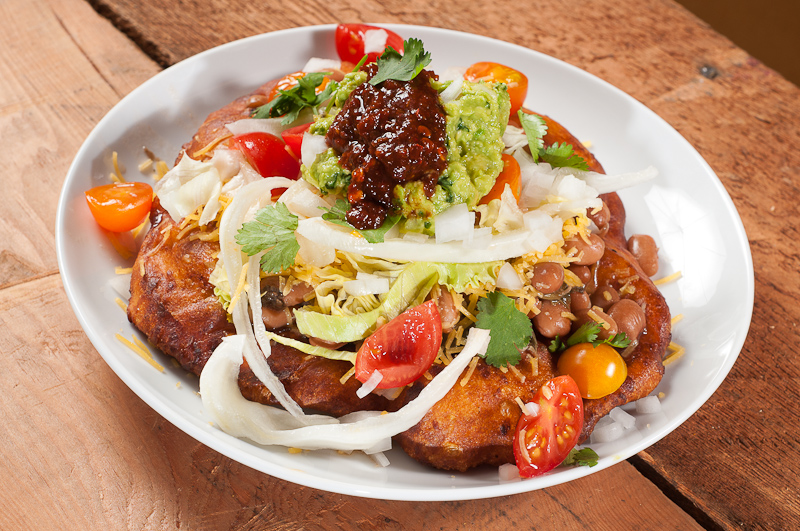 Vegetarian Indian Tacos (on Navajo fry bread)
Navajo Fry Bread, and the Indian Tacos made with it, have a sad and storied past. They originated in Native American internment camps set up by the US government in the 1860s, as a way to use the very limited rations provided. Cynthia Detteric-Pineda has an excellent page with the details of that history and a recipe for the bread (which I've adapted slightly, below).
Today, fry bread and Indian tacos are a proud part of the culture, served at virtually every pow-wow. And with good reason; besides the history, they are delicious.
Fry bread is so much more filling than a corn tortilla that a single one of these, loaded up with flavorful toppings, makes a whole meal. If you have any dough left over, it is a treat fryed up and served with powdered sugar or honey.
Be careful not to knead the dough any more than is absolutely necessary to bring it together, because you want it to remain tender. For the same reason, it works best if you fry it until just medium golden brown, not as dark as I show in the picture above. You might also try using 1/3 pastry flour, especially if your all-purpose flour is higher in gluten, like King Arthur brand.
I served my tacos with pinto beans, a spicy saute of summer squash, poblano peppers, and corn, guacamole, cheddar cheese, onions, cherry tomatoes, iceberg lettuce, and a homemade hot sauce (but made with smoky morita and California dried peppers).
Iceberg lettuce? I love iceberg lettuce. There, I said it. It is crispy, cool, refreshing and just slightly bitter. It got a bad rap because it was the only lettuce used in American salads for like 40 years. Hey snobby pants: get over it and use it when it fits the bill. Agree?
Be sure and read through this whole recipe first; in the ingredient list I'm calling for several sub-recipes and prepared components that take signficant time.
Indian Tacos (with Navajo fry bread)
Vegetarian
Serves 4
Time varies depending on whether you are using pre-cooked beans and pre-made salsa
For the fry bread:
3 cups flour
1 teaspoon salt
1 tablespoon baking powder
1 cup milk (and maybe a little more)
oil for frying (3/4" deep in a big skillet)
Whisk together the dry ingredients. Add the milk and mix with a fork until you have a shaggy mass, adding a little more milk if needed. You want a dough that is just barely not-sticky-enough to roll out. With floured hands, knead for just a few seconds to make a ball. Oil and set aside until you are ready to fry.
When ready to fry (just before serving, they are best fresh), bring a skillet filled with 3/4" of oil to 365 degrees F. Divide the dough into 4 balls and roll each one out to about 9" in diameter. Fry one at a time until medium golden brown (not as dark as the photograph), flipping to cook both sides. Be careful when flipping – they are big enough that if you just flop over with a spatula it can cause a dangerous splash. I used a spatula and a spoon to control them. Remove to paper towels to drain.
For the sauteed topping:
2 tablespoons oil
1/2 onion, fine dice
3 cloves garlic, minced
1 pound yellow summer squash, bite-sized cubes (about 3 medium)
kernels from 2 ears of corn
4 poblano peppers, roasted, peeled, seeded, and cut into strips (rajas) (use rubber gloves to avoid burning skin)
2 teaspoons Mexican oregano
salt
Heat the oil in a big skillet over a medium-high flame. Fry the the onion and garlic for 1 minute, then add the summer squash and 3/4 teaspoon of salt. Cook, tossing occasionally, until browned; add the corn and cook 2 minutes; add the poblanos and oregano and heat through. Taste and adjust seasoning.
For assembly:
3 cups tender cooked pinto beans (homemade or canned)
1 cup grated cheddar
1/2 cup minced white onion
1 cup cherry tomatoes, halved
2 cups shredded iceberg lettuce
1 1/2 cups killer guacamole
homemade hot sauce (but with morita and California dried peppers)
Put a fry bread on each plate, and top with generous portions of beans, the squash saute cheese, onion, tomatoes, lettuce, guacamole and hot sauce. Serve immediately.