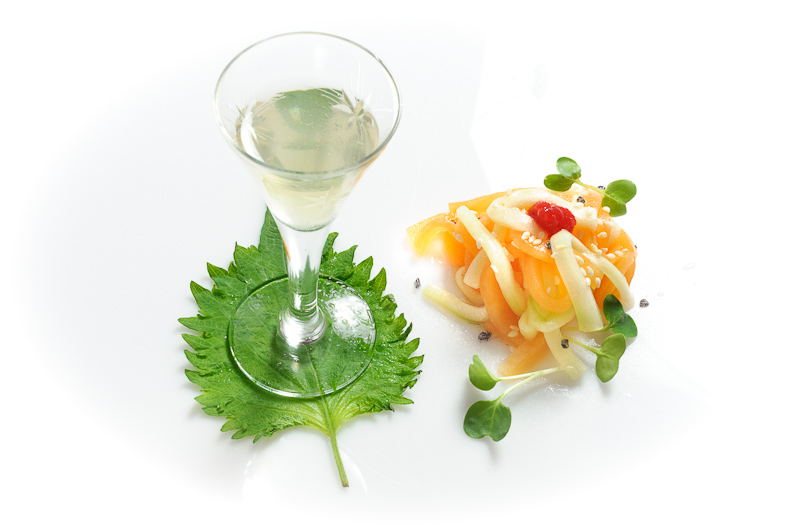 Compressed Cantaloupe & Cucumber Salad with Shiso Infused Sake
Dave Arnold from the French Culinary Institute recently invented a technique for infusing just about anything (herbs, vegetables, chocolate, …) into booze, water or oil, using nothing fancier than a cream whipper
. It is a genius idea because it takes two minutes, requires no special culinary talent, and produces beautifully clear, fresh, brightly flavored results.
Read his post (and the enlightening comment thread) for more details, but this basically works because the NO2 forces its way into the cells, then when it is released, it rushes out, carrying the flavor components into the liquid.
Today I used this technique to infuse shiso into cold sake. Shiso (aka perilla or beefsteak leaf) is one of my favorite herbs. It is used all over Asia. The flavor is somewhat similar to mint or basil, but with a distinctly tart edge. Shiso-grapefruit sorbet is mindblowing.
You can see the shiso gave a lovely green cast to the sake. In the original infusion post, Dave found that he got some darkening if he crushed the herbs. For shiso, I didn't get enough flavor if I left the leaves whole, but I also didn't experience any color change, fortunately.
In Japan, shiso is clasically paired with pickled umeboshi plums, for example in ume shiso maki (sushi rolls). I slipped the umeboshi into the compressed cucumber and canteloupe salad instead.
In restaurants, compression is done with a high powered vacuum chamber. When used on fruit, they come out translucent and jewel-like, with much denser flesh. You can get a similar result at home by freezing and then thawing the fruit, at least with melons (and cucumbers, which are closely related). When defrosted, the melon becomes so flexible that you can actually bend it and wring water out without breaking it.
I'm planning on doing an occasional post introducing these types of modern techniques, especially those that can be done easily in a home kitchen. Let me know if you find that interesting or would prefer more "regular" recipes!
Compressed Cantaloupe & Cucumber Salad with Shiso Infused Sake
Vegetarian, vegan, and gluten-free
Serves 4
15 minutes (but you have to have frozen and defrosted the cuke & melon in advance)
14 shiso leaves, divided
1 cup sake
1 cucumber, peeled, seeded, cut into 1/4″ thick slabs, frozen overnight, defrosted but still cool
1/2 cantaloupe, peeled, seeded, cut into 1/4″ thick slabs, frozen overnight, defrosted, but still cool
2 teaspoons toasted sesame oil
1 tablespoon toasted sesame seeds
1 teaspoon umeboshi plum paste (or buy whole umeboshi plums, pit and crush)
black sea salt
kaiware sprouts
Set glasses and plates aside to chill. Lightly crush and tear up ten of the shiso leaves until fragrant. Put them and the sake into your  cream whipper. Charge with one NO2 (whipped cream) cartridge. Shake for 30 seconds. Let stand for 1 minute. Discharge the NO2 (into a sink, in case a little liquid comes out). Remove the lid and strain the sake. Chill in the coldest part of the freezer for ten minutes while you make the rest of the dish.
Trim the cucumber and cantaloupe into 3″ long slabs. Work them in your hands or even with a rolling pin to extract most of the liquid. You should seem them grow somewhat translucent. Slice into 1/8″ wide "noodles". You'll need about 1 1/2 cups total for four servings. Toss the noodles with the sesame oil and sesame seeds.
To serve, divide the "noodles" among four plates, forming a small mount. Top with a 1/4 teaspoon umeboshi plum paste. Sprinkle with a pinch of black sea salt and garnish with a few kaiware sprout tops. Pour 4 servings of the cold sake, place the glass on one whole shiso leaf, and serve immediately.