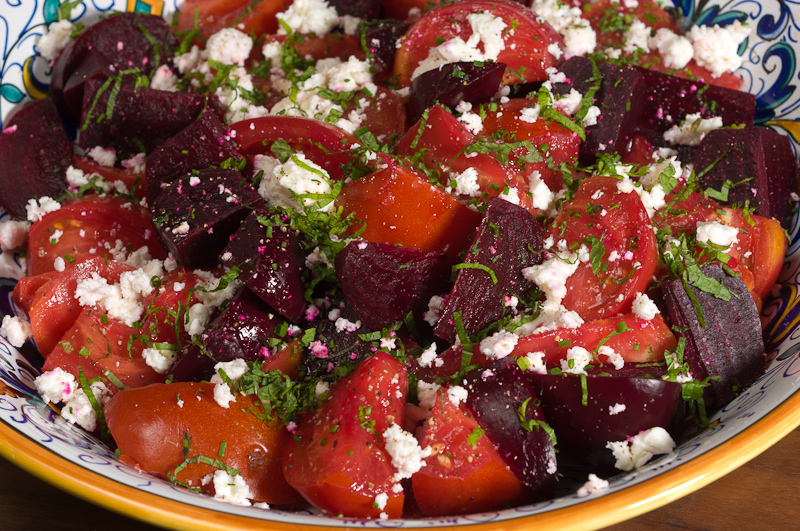 Tomato and Beet Salad with Feta and Mint
This is one of those dishes that is good out of all proportion to the difficulty of making it, which is virtually nil. It is totally dependent on using great tomatoes and olive oil, and home-cooked beets (don't even think about using canned). The only thing you need is enough foresight to boil the beets and have them cool in time for dinner, which you can easily do a day or two before.
I've given a rough recipe below, but really you can just make this by eye. You want roughly the same volume of beets and tomatoes, cut into nice bite sized wedges. Toss them with a generous amount of delicious oil and flaky sea salt, top with some crumbled feta and fresh mint and you are good to go.
When you boil beets, leave the peel on and the root and a little bit of stem intact. This will reduce the amount of "bleeding" into the pot. Test them for doneness by poking with a knife or cake tester. When they are tender, let them cool completely and then slip their jackets right off. I like to make a bunch and then use them for several days. Roasted beets would be fine in this salad as well.
You could also experiment with other herbs such as thyme, oregano, tarragon or chives instead of the mint.
Tomato and Beet Salad
Vegetarian and gluten-free; vegan if you omit the feta (or substitute for it)
Makes about 6 cups
3 cups bite sized wedges of perfect ripe tomatoes (at room temp)
3 cups bite sized wedges of boiled, peeled and cooled beets (at room temp)
6 tablespoons best-quality, fruity extra-virgin olive oil
sea salt
black pepper
1/2 cup feta cheese, crumbled
handful of fresh mint leaves, chiffonade
Toss the tomatoes and beets with the olive oil, a couple big pinches of salt, and a few grinds of black pepper. Taste and add salt and more oil as needed.
Put the vegetables in a wide, low serving bowl. Top with the feta and mint and serve immediately.