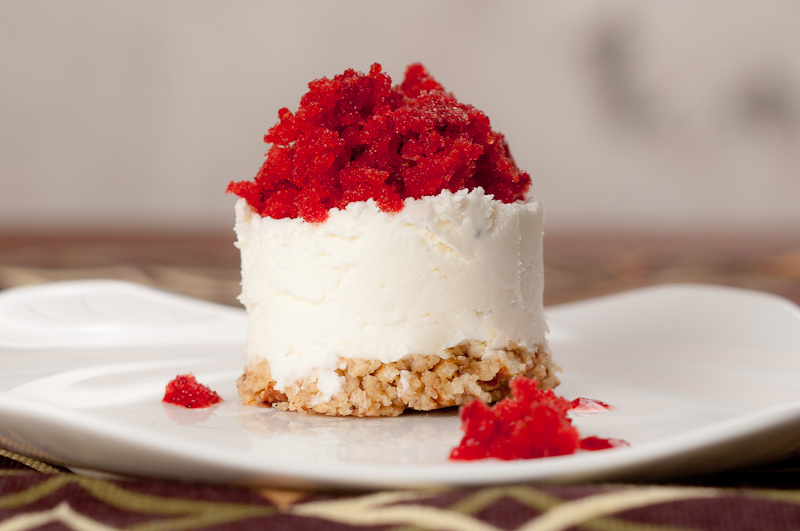 This was just pure play. I wanted to see if I could do a cheese course that would look like cheesecake, but not be particularly sweet. I landed on a Laura Chenel chevre with a little salty crust and strawberry granita.
A cheese course, like an amuse bouche or a tapa is an opportunity to be a little less constrained, because you don't need to make something that would be appropriate in an entree-sized portion. You can use bold flavors and surprising combinations without rapidly tiring the palate.
The strawberry component has one ingredient: strawberries. I just pureed the heck out of them and then made a simple granita by stirring/raking them with a fork every 15 minutes or so until frozen. The stirring keeps the ice crystals small and smooth. Needless to say you want to use exceptional strawberries for this; don't even bother if you only have hard tasteless berries that made a 2000 mile trip to your grocery store.
I wanted to pay homage to the classic graham cracker crust of a cheesecake, but go salty instead of sweet. I landed on coarsely pulverized rice crackers and mini-pretzels with a little butter, fennel pollen and black pepper.
Goat Cheese with Strawberry Granita and a Pretzel Crust
Vegetarian
Serves 4 as a cheese course
1 cup strawberries, hulled
25 g. rice crackers (I used the wafer-shaped ones from Trader Joe's)
10 g. mini-pretzels
25 g. unsalted butter
big pinch of fennel pollen
few grinds black pepper
3/4 c. chevre (preferably Laura Chenel brand)
Puree the strawberries thoroughly. Place them in a shallow plastic container in your freezer. Every fifteen minutes or so, give them a stir with a fork, raking through the ice crystals to break them up. In about two hours or less you should have a nicely frozen granita.
In a mini food processor, combine the rice crackers, pretzels, butter, fennel pollen and black pepper. Process until you have fairly uniform small crunchy bits, say 1/4 – 1/2 the size of a grain of puffed rice cereal. Taste and mix in a little more salt if needed.
To serve, spray or rub a 1″ ring mold with a light coating of oil and place it on a plate. Press in a 1/2″ layer of the crust mixture. Top that with 3 tablespoons of the chevre, again, presing it into the mold, then gently push the "cheesecake" out of the mold. Repeat for the remaining plates. Remove the granita from the freezer and scrape it with the fork again to restore the texture. Top each plate with a tablespoon or so of the granita and serve immediately.