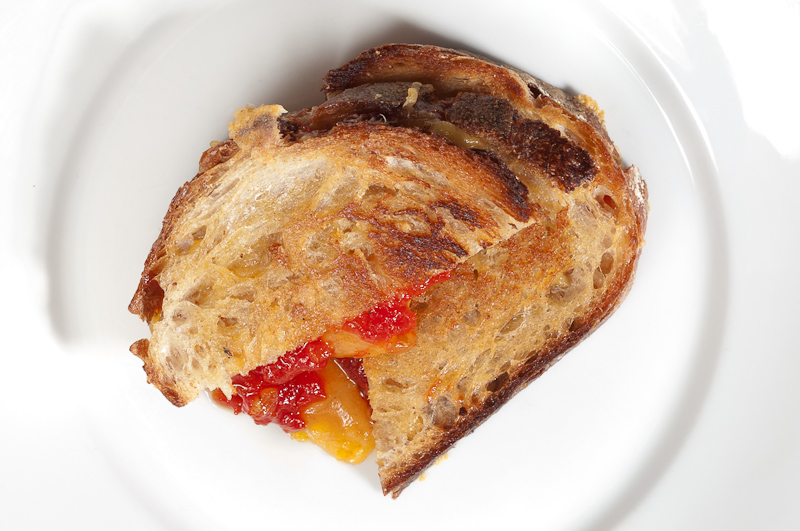 Tomato Jam With Rosemary and Saffron (on a Grilled Cheese Sandwich)

Tomato jam. Sounds kind of funny, right? But then when you think about it, a tomato is a fruit after all. Cook them down with sugar and seasonings and you get a piquant jam, though you might think of it more as a chutney.
Whatever you call it, this tomato jam is amazing on a grilled cheese with seriously sharp cheddar, or with the chickpea fritters I'll tell you about next week.
For flavorings, I opted for rosemary, saffron and chili flakes. It could be equally delicious with garlic and lemon zest, or with coriander, turmeric and black pepper.
It is important to peel the tomatoes before making the jam, otherwise you will have unpleasant stringy bits in it. To peel them, you simply make an X in the skin at the end away from the stem, dunk 'em in boiling water for 10 seconds, let 'em cool, and you can zip the skin right off. Doing this for half a dozen tomatoes just takes a few minutes. When I was stageing at Canlis, I cored, peeled and seeded two cases of Roma's. That takes more than a few minutes.
Since you don't need picture perfect tomatoes for this jam, you might ask at your farmer's market to see if you can buy seconds that are a little bruised or otherwise unloved. At my market, they are about half the price of the number ones.
This recipe will make about a cup of jam, which will keep in your fridge for a few days. I'm not a canner (yet), so I don't know whether it is suitable for processing and longer-term storage.
Tomato Jam With Rosemary and Saffron
Vegetarian, vegan, and gluten-free
Makes about a cup
24 ounces (by weight) tomatoes, cored and peeled (see above), roughly diced
1/2 cup white onion, finely diced
1/2 teaspoon rosemary leaves, very finely chopped
3/4 cup sugar (you could also try a little less)
3/4 teaspoon salt
pinch of chili flakes
pinch of saffron, crumbled
a few grind of black pepper
2 tablespoons lemon juice
How about this for easy? Bring all ingredients to a simmer (the liquid will all come out of the tomatoes, you don't need to add any). Cook for about an hour, until thick and syrupy. Taste and adjust seasonings.