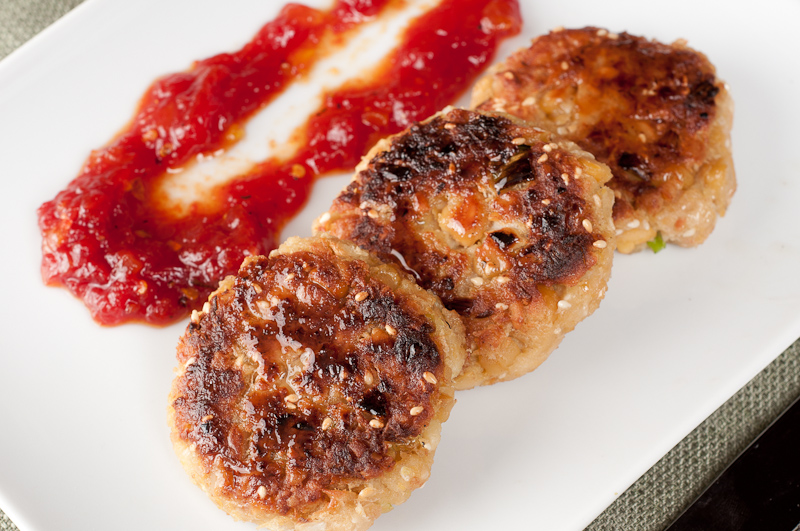 Chickpea cakes (fritters) with tomato jam
These little chickpea cakes are versatile; you can serve them as an appetizer, a side dish on an entree plate, or as the protein-packed star of the show. They are somewhat like a pan-fried falafel, but without the benefit of a deep-fried crust, so we amp up the internal flavoring. Try them with this tomato jam for a big flavor combination.
The basic recipe is vegetarian. You could use an egg-replacer if you'd like it to be vegan, and gluten-free breadcrumbs and alternative flour if you want it to be gluten-free.
I also think it would be good with the ratio of breadcrumbs to flour reversed, for a lighter consistency, but I haven't tried it.
Chickpea Cakes
Makes about 16 small cakes
Vegetarian (vegan if you use an egg-replacer)

3 cups cooked chickpeas (two 15 oz. cans, drained and rinsed)
1/2 cup green onions, minced
5 cloves garlic, minced
1/4 t. minced rosemary leaves
3/4 t. salt
zest of 1 lemon
juice of 1/2 lemon
1 egg, lightly beaten
1/2 cup all-purpose flour
1/4 cup homemade breadcrumbs
1/4 cup toasted sesame seeds
oil for shallow frying
sea salt (ideally Maldon (aka the world's greatest salt) or fleur de sel) for finishing
Combine all ingredients in a food processor and buzz until you have a fairly uniform mixture, but before it is completely pureed. We want some texture left. You should be able to form it into a ball that holds its shape. It should be neither crumbly nor a batter. Add liquid or breadcrumbs as necessary to find the right moisture level. If you don't mind tasting raw egg, taste a bit and adjust the seasoning as needed.
Heat a few tablespoons of oil in a large skillet, preferably cast-iron, over a medium-high flame. Take a golf-ball sized piece of dough, press it in your hands into a flattened 3-inch patty and place in the skillet. Repeat with as many as will fit comfortably. Fry on one side until golden brown, about 3 minutes, then flip and brown the other side. Remove to paper towels and finish with a little bit of sea salt.