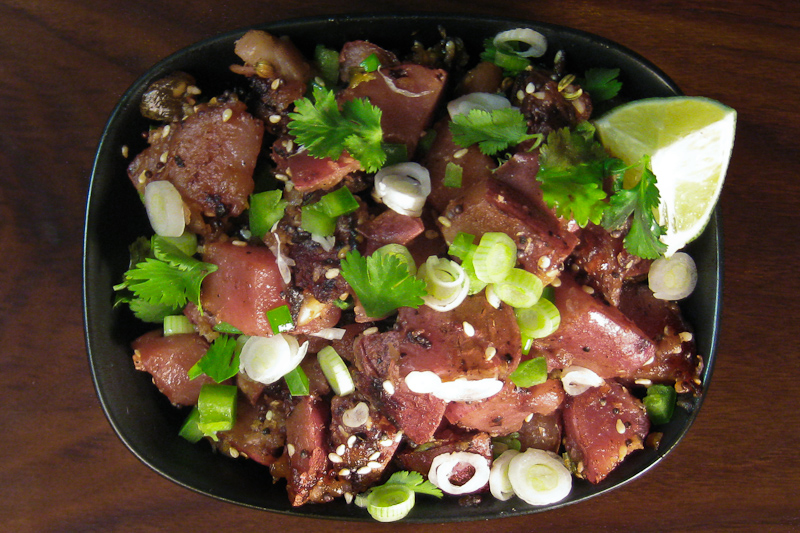 Spicy and Seedy Indian Potatoes
Indian food as served in American restaurants is so driven by saucy curries that we miss out on all of the delicious dry-fried spicy vegetables. This version below, with potatoes, might not be precisely traditional in either flavors or technique, but it is delicious and you could easily serve it with any Indian meal.
The reason my potatoes are such an interesting color is I used All-Reds, which are pink all the way through. My wife kept saying they looked like ham! You can use any small, waxy or medium-waxy potatoes, or a mix. Yukon Golds would be great and easy to find.
I got those All-Reds from Olsen Farms, at our farmer's market. Speaking of which, Seattle folks, I'll be doing a demo at 6 PM at the Queen Anne Farmer's market this Thursday, 6/10/2010. I'd love to meet all of you, so come by and say hi!
To really make the flavors pop, I add most of the spices, along with lime juice and fresh ginger, right at the end. I love the contrasting bright notes with the mellow, earthy potatoes. If you want them less spicy, tone down the chili flakes and jalapeno to your taste.
The main technique point to watch out for is to stop cooking at the right point, when the potatoes are tender but still cubes, not mash. You'll need to control the liquid during the last few minutes of cooking to manage that.
These were so good, I ate 'em for four straight days – hot, cold, with yogurt, with Tapatio… they would have been great with a fried egg on top too, or in a tortilla. Hmm, maybe Indian tacos should be the next big thing when this Kogi taco truck thing is over.
Spicy and Seeds Potatoes – Recipe
Vegetarian, vegan, and gluten-free
Serve 4-6 as a side dish
1/4 cup vegetable oil (or ghee, if you prefer)
1 white onion, finely diced
3 cloves garlic, minced
2 pounds waxy or medium-waxy potatoes such as Yukon Gold or All-Red, 1/2" cubes
1 teaspoon Kosher salt
1/2 teaspoon chili flakes
1 jalapeno, minced and divided
1/2 cup water
1 tablepsoon sesame seeds
1 teaspoon fennel seeds
1 teaspoon coriander seeds
2 teaspoons black mustard seeds
1 teaspoon fresh ginger, finely grated
fresh ground black pepper
1/2 cup cilantro leaves plus more for garnish
juice of 1 to 2 limes
2 green onions, white parts only, finely sliced
Heat the vegetable oil over a medium-high flame in a large skillet with a lid (preferably cast iron). Add the onions and garlic and fry for 2 minutes. Add the potatoes, salt, chili flakes and half of the jalapeno and fry for 5 more minutes, stirring occasionally, until you see some browning.
Add 1/2 cup water, cover, and reduce the heat to low. Simmer until the potatoes are tender, checking and stirring occasionally. Add a little more water as needed.
When the potatoes are just tender, remove the lid and cook off any excess liquid.
In a small skillet over medium heat, toast the sesame seeds, fennel seed, coriander seeds and black mustard seeds until fragrant, about 2 minutes.
Mix the seeds in to the potatoes, along with the ginger, a few good grinds of black pepper, most of the cilantro, the lime juice, and most of the green onions. Taste and adjust seasoning, adding more salt or lime juice as needed. If you don't need it to be vegan, you might consider mixing in a few pats of sweet butter at this point.
Transfer to a serving bowl and garnish with the remaining jalapeno, cilantro and green onion. Serve immediately.