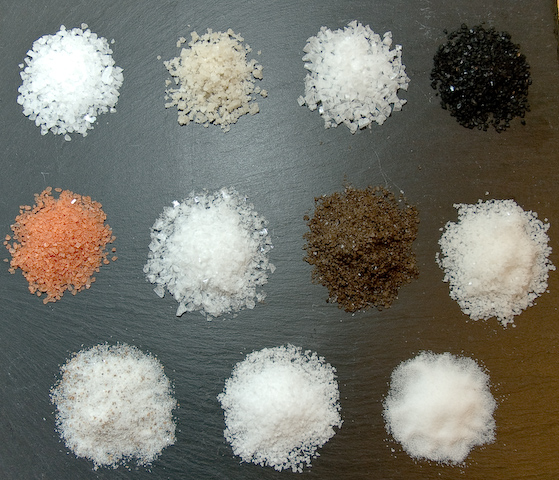 So many great finishing salts to try!
I've been fascinated with the wide variety of salts available for cooking and especially finishing your dishes for years. After I wrote about the importance of salt, I learned of The Meadow, a shop in Portland, Oregon that carries a large and beautifully curated selection. I visited their brick & mortar store a few months ago and came home with some incredible items.
The Meadow's owner is Mark Bitterman. He's not in this just to make a buck; he's insanely, utterly passionate about salt. I recently had the opportunity to interview him. If you find his thoughts interesting, you might like to pre-order his book, Salted: A Manifesto on the World's Most Essential Mineral, with Recipes
, which will be out in the fall, and I highly recommend you pick up one or more of The Meadow's salts.
I think my current favorite is the Haleakala Ruby, which I brought to Salty Seattle's recent taste test, and I hear it won one of the best pairing categories! But it would be hard to pass up the Iburi Jio cherry-smoked salt from Japan or the Black Diamond. You can find them all on The Meadow's website.
Here is the interview with Mark Bitterman:
Me: You've had quite a varied career! How did you go from editing a journal on superconductivity to salt expert?
Mark B: It was the superconductivity effort that was a lark, not the salt. I've worked as a writer for much of my life, but I've been an avid traveler and eater since forever. I discovered salt when I first visited France about 25 years ago, motorcycling around the countryside and eating. I later lived in the south of France for a number of years restoring a chateau, and eating incredible food. Chefs would come visit and they'd actually bring their salt with them! I took note: salt was a core ingredient, an ingredient with place, purpose, and its own majesty.
Me: Other than flavored salts, do you find that different salts have a strongly different taste, or are the main differences in texture and color?
Mark B.: The most important thing to take into account when thinking about salt is that the flavor of the salt itself is not what matters. Nobody eats salt by itself. What matters is the interraction of the salt and the food. Three main things that determine how salt will play up the flavors of food are its crystal shape, its mineral content, and the residual moisture caught up in the crystals. Delicate moist clean flavored fleur de sel is the go-to salt for all the subtle to medium bodied and flavored foods, from buttered toast to steamed veggies to fish to caramels. Snappy bright flake salts are great for fresh vegetables and green salads, or anywhere that you want a spark of salt to contrast vibrantly with the food. Coarse minerally sel gris is the best salt for finishing red meats, root vegetables, and other heartier foods, and this is also your go-to salt for most cooking uses, from boiling pasta water to rubbing the cavity of a chicken before roasting.
Me: The Meadow has one of the most extensive and best documented collections of salts that I've seen. How do you go about finding new products?
Mark B.: We scour the earth, we read everything, we have friends and customers from all the corners of the globe that bring us stuff, and sometimes we just get lucky. But I'm always looking for salt, ALWAYS.
Me: What are the best uses for salts with very large flakes, like your Black Diamond?
Mark B.: Those hefty flakes salts are great for adding drama to a dish. Peas and flake salt give geometric electric pizzaz to the spherical sweet vegetables. Black Diamond salt is a great salt for sprinkling atop any pasta dish, risottos, polentas, on baked potatoes, grilled salmon and other fish. I make a pumpkin soup topped with toasted sesame seeds, guacamole, crème fraiche, and Dlack Diamond salt and it ROCKS.
(Me: Indeed it does! I hope you all enjoyed the interview with Mark and are motivated to try some new salts. They can really be an easy way to make your dishes sing. It takes only tiny amounts to finish a plate, so although you might think they sound a little pricey, you'll find that they last a long time.)