As a vegetarian, one of the things I hear all the time is "I'd like to eat less meat, but I just don't know how to plan a vegetarian meal." Without the familiar routine of building a plate with meat at the center, many perfectly competent cooks find themselves at a loss for how to make a dinner that will be truly satisfying.
I've been a vegetarian and a serious cook for 25 years, so I've planned and prepared several thousand such meals. It may seem like it requires great creativity, but actually the secret couldn't be simpler. I'll show you how to do it by answering three easy questions. Better yet, you can start with any of the questions, and it will help inspire and narrow down answers to the others.
What grain or starch do I feel like eating?
What food culture am I in the mood for?
What's fresh?
Let's walk through these questions and with each one I'll share the simple thought processes that lead to a full vegetarian menu. At the end, I'll point out some pitfalls to avoid.
What grain do I feel like eating?
This might seem like a funny place to start, but actually I find that the grain or starch plays the same anchor role in a vegetarian meal that meat might play otherwise. For example, if I want rice then immediately I'm thinking: risotto, paella, curry, sushi, Mexican food, red beans and rice, … we no longer have a blank sheet of paper. In fact it is an embarrassment of riches! Other grains are more tightly associated with a particular cuisine. If couscous is the foundation, then a Middle Eastern or North African meal is likely to be in the works.
Let's take a look at a couple of examples. In the first one, the grain (polenta) leads us to the culture (Italian), which in turn leads us to the side dishes. Seasonal fruits and vegetables help us fill in the blank canvas. In the second case, the grain (farro) is paired with seasonal ingredients (chanterelles and apples) in a modern American style, that gives us a rather free hand to choose a simple salad and dessert.
A Meal Based on Polenta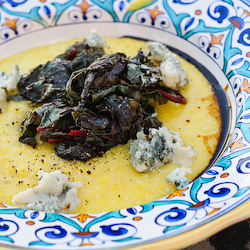 I'm absolutely mad for polenta, the Italian staple of cornmeal cooked until soft and dosed with a healthy amount of Parmigiano-Reggiano. Polenta is a pretty neutral base that can take many of the same accompaniments as pasta. In this case I was serving it in late fall, when hearty greens like chard are very good (question #3). Keeping with the Italian theme, I chose gorgonzola dolce (a mild blue cheese that willingly yields into the surface of the polenta), and garnished the bowl with a drizzle of top-notch balsamic vinegar.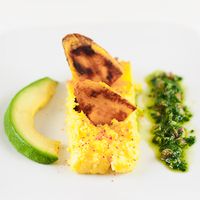 For a simple family meal, I would just serve this with a preface of a simple green salad with a tangy dressing or some sauteed green beans with lemon zest. To make it into a dinner party, we could start with vegetarian minestrone or grilled eggplant with a spicy fresh tomato salsa, and serve a crostata for dessert, using whatever fruit is in season – or that we've frozen from the summer.
(Did you know polenta is also popular in Argentina? Here's a riff on serving it in a South American dish, with chimichurri).
… and Another Based on Farro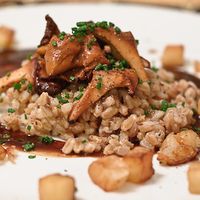 It was a chilly, rainy fall day in Seattle, so a hearty, warming grain like farro suited my mood. If you haven't worked with farro, you should definitely give it a try – it is healthy, has a nutty flavor and a satisfying but pleasant chew. You can find farro at any natural foods store or upscale market.
Apples and chanterelle mushrooms were both in season, answering question #3, and I realized that their natural sweetness when sauteed would complement the grain. I decided to splurge on a generous ration of butter and Calvados (apple brandy) just to make sure the farro wasn't too healthy.
This dish seems more Pacific Northwest than European. I would probably serve it with a first course of arugula or another peppery green with shards of parmesan, and finish with just some ripe figs for dessert. Well, maybe I'd break out the blowtorch.
What food culture am I in the mood for?
The biggest mistake that Western cooks make when they aim for a meatless meal is to try and convert down-home Americana to be vegetarian. There are some ideas there, but they tend to run out pretty fast or lead to clumsy substitutions for meat. If you look to other countries you'll find a bounty of choices. Just about every culture in the world has a variety of dishes that are either inherently vegetarian or easily modified.
I don't know about you, but my cravings are often pretty culturally specific. If I go more than a couple weeks without Thai food, my fingers start to twitch uncontrollably. Sometimes nothing is going to do but a big plate of refried beans and rice with a cheesy enchilada or chili relleno. Or maybe it is an Italian feast that you ardently desire. Wherever it is, odds are there are dishes and flavor combinations just waiting for you.
A Blowout Mexican Feast
For an example, let's go for a killer Mexican dinner. We'll actually have two grains here: rice, and corn tortillas. Although tacos are mainly street food in Mexico, they are fantastic for an informal dinner party.

The formula for great vegetarian tacos is pretty simple: start with a substantial base, like winter squash or grilled tofu, add sauteed vegetables, cheese or crema, and a bright and spicy fresh salsa or slaw. Here are three options: achiote-rubbed butternut squash tacos, roasted potato and asparagus tacos with a kohlrabi slaw, and grilled tofu and bell pepper tacos with grilled pineapple salsa.
Now let's go for broke. You obviously don't have to make all of these dishes, just choose the ones that you have time for: refried beans, green rice or red rice, homemade salsa and ridiculously good guacamole, maybe a quick jicama salad with orange and radish. Take it over the top with a traditional burnt sugar flan.
Want to make this a whole lot simpler? Skip the tacos, and just serve rice and beans, salsa from a jar, guacamole and grated cheese for a healthy weekday menu.
These Swiss chard, onion and Monterey Jack enchiladas would be another fine option instead of the tacos. They are good for a crowd because they finish in the oven, so there is less to fuss with at the last minute. Any or all of the same side dishes would be perfectly welcome.
What's fresh?
The past few years have seen a tremendous change in our understanding of seasonality and local produce. Most of us know now that asparagus is fresh in the spring, and peaches in the dead of winter are probably going to be… dead.
As you become a more confident cook, you can start by buying the vegetables that look beautiful at the farmer's market or grocery, knowing that you can turn them into a coherent meal. The huge bonus is that by starting with the freshest, tastiest produce you can lay your hands on, you won't have to do much to make a delicious meal.
Some vegetables, like eggplant, can go anywhere from India to Italy and back, while others will narrow your focus considerably. Fresh bamboo shoots are probably going to enjoy a visit to China more than, say, New Mexico.
Quinoa Cakes and a Dinner of Homefries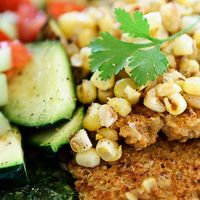 As an example of cooking based around what is fresh, let me refer you directly to these quinoa cakes, served with a veritable riot of fresh produce from the farmer's market: caramelized zucchini, corn relish, and a cucumber and tomato salad. That is a whole meal in a bowl.
For an even simpler dinner, what do you do at the end of August when your backyard is full of homegrown potatoes, the tomatoes are at their peak, and a co-worker brings you eggs laid that morning? You make crispy homefries of course, using the potatoes instead of a grain as the starchy base. The cultural frame here is pure Americana.
What can go wrong?
Once you've started to master vegetarian dishes from around the world, you can go overboard and start mixing and matching too much. Risotto is great and green curry is great, but if you are going to try and serve them in the same meal, you are risking a grave battle on your palate. I'm not saying fusion menus can never work, but I wouldn't go there on a first date unless you are quite sure you know what you are doing!
Also, it can be easy to get in a rut. Once you've mastered, say, polenta, you can find yourself serving basically the same dish over and over again. The cure is simple: keep using it, but search the web or look through cookbooks to find variations.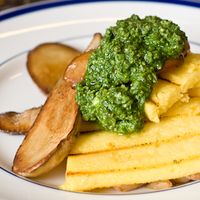 For example, the basic polenta dish above could be made with green beans or eggplant instead of chard, and you could use a young pecorino instead of the gorgonzola. Or polenta can be allowed to cool and then baked or pan-fried and served with tomato sauce. It could be served with a rich ragout of wild mushrooms, topped with a poached egg, or hit with a generous dose of fresh pesto at the peak of basil season. Keep mixing it up and you'll never grow bored.
Summary
Planning vegetarian meals doesn't have to be any more difficult than meat-centered meals. By following these three simple rules (learn to focus on the grain instead of the meat, look to cultures around the world for ideas, and cook with the best, freshest ingredients you can find), you will discover a universe of options. Take a look around Herbivoracious for more inspiration, and let me know your best vegetarian meal planning tips!