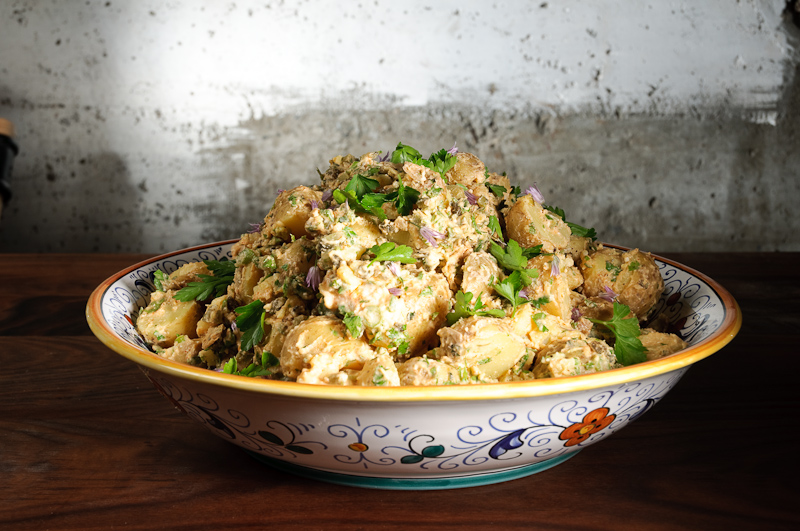 Potato Salad with Feta Cream Dressing
We have an annual Mother's day brunch with the Sephardic side of my wife's family, which while not quite the fress of Passover or Rosh Hashanah, always includes lots of big flavors. I wanted to make a potato salad that wouldn't be cowering in the corner, afraid of being bullied by the borekas and boyikos.
Rather than a mayonnaise or vinaigrette, I opted for an assertive dressing made from feta cheese beaten with cream, flavored with garlic, smoked paprika (pimenton de la vera) and lemon juice. When you make it, aim for a consistency a little thicker than sour cream, remembering that it will tighten up as it cools.
For the potatoes, I rummaged through the bin of Yukon Golds looking for all the tiny ones, so I could just cut them in half, which looks nice. If you can't find small ones, use any waxy potato and just cut them into bite-sized dice.
Potato Salad with Feta Cream Dressing
Vegetarian and gluten-free
Serves 6 as a side dish (and doubles easily)
3 pounds small Yukon gold potatoes
2 tablespoons olive oil
2 tablespoons capers, drained and dried on paper towels
4 ounces feta cheese plus more for garnish
3/4 cup heavy cream
2 cloves garlic, minced
1/2 teaspoon smoked paprika
black pepper
juice of 1/2 lemon
1/4 cup sour gherkins, finely diced
2 tablespoons minced fresh dill
2 tablespoons minced fresh oregano
1 cup roughly chopped fresh parsley leaves plus more for garnish
4 green onions, white parts only, thinly sliced
chive blossoms (optional)
Bring a large pot of well salted water to a boil, and cook the potatoes until they are just tender but definitely not falling apart. Drain, cool, and halve (or cut into bite-sized pieces).
In a small frying pan over medium-high heat, fry the capers in the olive oil until crispy and brown. Remove to paper towels.
In a blender or small food processor, whiz the feta cheese, heavy cream, minced garlic, smoked paprika, a few good grinds of black pepper and the lemon juice. Adjust the consistency to something just a little thicker than sour cream, and the flavor to be quite intense – that is a lot of potatoes! Add salt if needed.
Toss the potatoes with the dressing, capers, gherkins, dill, oregano, parsley and green onions. Taste and adjust salt and seasonings as needed. Chill in refrigerator.
To serve, toss again, garnish with additional feta and parsley, and chive blossoms if using (broken into their individual tiny purple flowers).