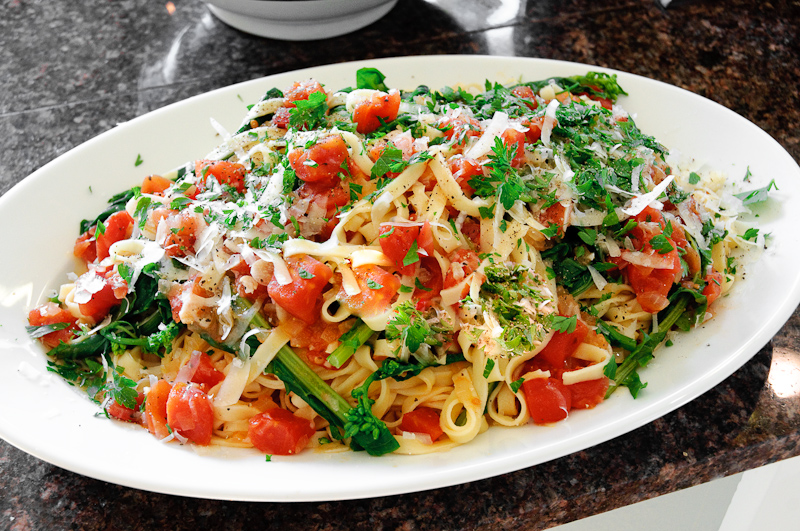 Fresh fettucini, broccoli raab, light tomato sauce with white wine and lemon
From May through October, we have a farmer's market on my day off, just a couple of blocks from my house. Our regular ritual is to swing by in the afternoon, select what looks great, then walk home and figure out what to cook with our bounty.
If I don't have another plan, I'll often pick up a pound of fresh pasta from one of the vendors to serve as the base for improvisation. There was beautiful broccoli raab, and that got me thinking of a Sicilian style dish I'd had at Odd Fellows Cafe, with pine nuts and golden raisins. That wouldn't work for my family, but the buttery, light tomato sauce would be a hit.
Fresh pasta doesn't generally enjoy a full-bodied tomato "gravy" like you would serve with dried spaghetti. The style we are doing today is a much lighter broth of tomato juice, white wine and lemon, all emulsified with butter, which coats the noodles without overwhelming their delicate flavor.
If you don't have broccoli raab, you could do this same dish with zucchini or summer squash. Fresh basil would be a delicious addition as well.
When I want to cook with white wine but don't feel like opening a bottle, I often use dry vermouth, which I always have on hand. (Martini time can strike without warning). Vermouth keeps pretty well, so I don't have to use it up the same day, and I love the flavor it imparts.
Fresh Fettuccine with Broccoli Raab and Light Tomato Sauce
Vegetarian
Serves 3-4
1 bunch of broccoli raab (enough that you can't quite get your hand around it)
4 tablespoons unsalted butter
4 cloves garlic, minced
14 ounce can of diced tomatoes in juice, preferably San Marzano type
1/2 white onion, finely diced
pinch of chili flakes
3/4 cup dry white wine or vermouth, divided
juice of 1/2 lemon
salt
black pepper
1 cup grated parmigiano-reggiano
1 pound fresh (not dried) fettuccine
big handful of flat-leaf parsley or basil leaves, roughly chopped
Bring a large pot of well-salted water to a boil. Boil the broccoli raab until tender, remove (leaving the water for the pasta), and shock in ice water to retain color.
In a large skillet, melt the butter over medium heat. Do not burn it. Add the garlic, onion, chili flakes, and 1/2 teaspoon of salt, and saute for three minutes, until softened. At this point your house will be fragrant and diners may start wandering in with wild looks in their eyes.
Whisk the butter and onions while drizzling in the juice from the tomato can. You want to get the butter to emulsify, as in a beurre blanc, or in this case a beurre rouge. If it gives you any trouble, just start whisking in a little more cold butter. Then add the tomato chunks, 1/2 cup of the wine, and the lemon juice. Bring to a slow simmer and reduce a little, until it coats the back of a spoon. Taste and adjust the seasoning; it probably needs more salt and possibly lemon juice.
Preheat a serving platter or bowl in the oven (200 degrees F is good).
When you are nearly ready to serve, add the broccoli raab back to the sauce to reheat, and boil the pasta. Fresh pasta usually takes about 3 minutes. When it is al dente, immediately strain it and toss it in the skillet with the sauce and the remaining 1/4 cup of wine. Toss the sauce, pasta, half the cheese, and a few grinds of black pepper together until the noodles are coated.
To serve, use tongs to put the noodles on the serving platter. Pour the rest of the sauce, which won't have mixed in too well, over the top, distributing the broccoli raab and tomatoes. Top with the rest of the cheese, more black pepper, and the parsley or basil and eat immediately.