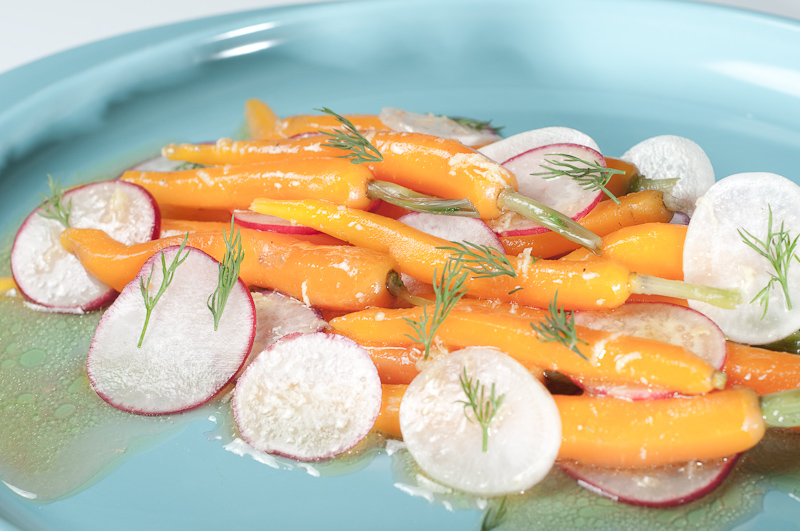 Salad with Cooked Baby Carrots and Sliced Radishes in a Ginger-Lime Dressing

It is still early season at our farmer's markets in the Northwest. The booths aren't full yet, but I enjoy the challenge of figuring out what to make with a limited palette. Small, super-sweet carrots and radishes in every color are two of the items that caught my eye this week.
When I think of salads, I tend to focus on raw ingredients and forget that cooked and chilled vegetables are a perfectly valid option. This dish is an easy and pleasant exception, especially if you already have a pot of water boiling for pasta.
You'll want to pay attention to your technique when boiling the carrots. The water should be in a good sized pot at a full boil and well salted. Check them frequently for tenderness, and the very second they are done, plunge them into ice water to stop the cooking, preserving the texture and color. This is very simple, but the details matter.
You could do the same dish with baby beets or turnips or even potatoes and it would be just as wonderful. You could also elaborate with say, toasted sesame seeds, or a bit of pesto made from the carrot tops.
The recipe is pretty flexible about amounts, and will make more dressing than you need; you can use it the next day in a different salad.
Since staging at Canlis I've become attuned to the option of intentionally not emulsifying dressings, allowing the oil to separate to produce an attractive look on the plate. That is what I did here. If you want it to emulsify, add a small amount of mustard or xanthan gum, whiz the heck out of it just before serving, or use the traditional technique of adding the oil in a thin stream while whisking
Cooked Carrot and Radish Salad
Vegetarian, Vegan, and Gluten-Free
Serves 4
1/2 cup extra virgin olive oil
1/4 cup lime juice or lemon juice
1 teaspoon finely grated fresh ginger
salt to taste
1 bunch of small, sweet carrots with tops attached
4-6 radishes, preferably of varying colors
a few tiny sprigs of dill
finishing salt (this Hawaiian Red Salt would be amazing)
Bring a large pot of well salted water to a boil and set up an ice bath.
Meanwhile, whisk together the olive oil, citrus juice, and ginger. Add salt to taste, and reserve.
Peel the carrots and trim the tops, leaving about 1/2 inch of stem.
Thinly slice the radishes, using a mandoline if available.
When the water is boiling, cook the carrots until tender, checking them frequently with the point of a knife. When they are just tender, remove them immediately to the ice water.
When you are ready to serve, drain the carrots and pat them dry. Give the dressing a quick whisk and toss the carrots with some of it. Transfer to a serving platter, and arrange the radish slices amongst and over them. Drizzle more dressing over the top. Garnish with the dill and finishing salt.