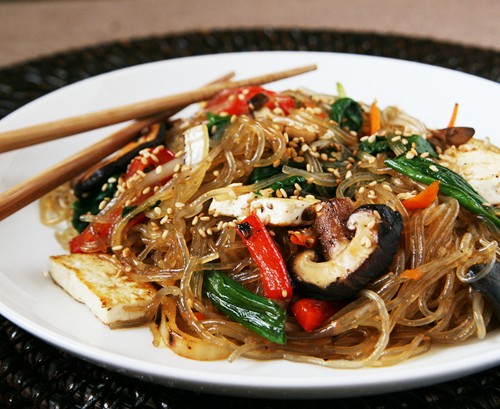 Vegetarian Jap Chae (Korean Glass Noodle Stir-Fry)
[Today's post is by my friend Alice of Savory Sweet Life. Alice's blog is a celebration of everyday cooking and baking. Her food shows that delicious, beautiful, homemade meals are within the reach of busy families. Today she shares with us a vegetarian version of japchae, a Korean glass-noodle stir fry she has enjoyed since she was a child.]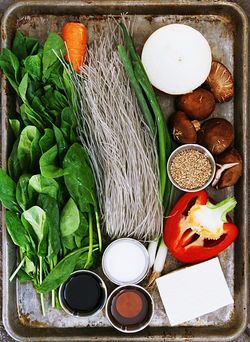 When a friend and well respected blogger like Michael Natkin invites you to guest post for his amazing food blog, it's a big deal and great honor.  When I first started Savory Sweet Life, Herbivoracious.com was one of the first blogs I frequently visited for inspiration, beautiful photos, and amazing vegetarian recipes.  Since then we've become friends.   Today, I am thrilled to share with you a vegetarian version of Korean jap chae, a very popular stir-fried noodle dish.
Growing up my mother would often prepare a big pan of jap chae (also spelled japchae or chapchae) full of vegetables with vibrant colors, stir-fried with glass-looking sweet potato starch noodles (dangmyeon), and seasoned with sesame oil, soy sauce, salt and pepper, and a touch of sugar.  Although stir-frying everything together is not complicated, its how you stir fry them which makes this dish special.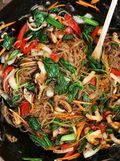 My mother taught me the importance of making sure to stir-fry each ingredient individually.  One could easily be tempted to add all the vegetables at once and fry them together.  But by frying them individually, the flavor and color of each vegetable is preserved without any cross blending of the other ingredients.  As a result, the frying pan becomes more seasoned as layers of umami build on each other.  The final dish is a beautiful medley of noodles, colorful vegetables, and tofu. From an aesthetic point of view jap chae is one of the most beautiful dishes in Korean cuisine.  It is also one of my favorite Asian comfort foods.  From our family to yours, enjoy!

Vegetarian Jap Chae
Vegetarian, vegan, and gluten-free if you use gluten-free soy sauce (San-J makes one)
Serves 2-3 as a main dish
Serves 4-6 as a side dish
1 bundle of potato starch cellophane noodles called dangmyeon (most packages contain 2-3 bundles and can be purchased at any Korean grocery store or most Asian markets)
1/2 bunch of fresh spinach
1/2 medium yellow onion, julienned
1 carrot, peeled and cut into match sticks
1/2 red bell pepper, julienned
8-10 fresh shiitake mushrooms, sliced
2 stalks green onions, sliced in 1.5" slices (green parts only)
½ block of firm tofu, cut into small rectangle pieces (approx. 1.5"x1"x.25")
2 cloves garlic, minced
Olive oil or Canola oil  (amounts will vary, please see directions)
soy sauce  (amounts will vary, please  see directions)
sesame oil (amounts will vary, please see directions)
salt and pepper
2 tablespoons sugar
3 tablespoons toasted sesame seeds
Boil one bundle of noodles for 5 minutes until softened and al dente in texture.  Drain the noodles and do not rinse.  Add noodles to a large mixing bowl and cut them three times with kitchen shears.
Add 2 tablespoons (each) of soy sauce and sesame seed oil.  Toss noodles until sauce is evenly distributed and set aside.  Using the same pot as the noodles, add enough water to boil spinach for 1 minute.  Remove spinach from water and allow to cool just enough to squeeze as much water out as possible.  Cut spinach in thirds, and massage it while seasoning with 1 teaspoon of sesame oil and a pinch of salt and pepper.  Add spinach to the large noodle filled bowl.
Heat a wok or large frying pan on high.  Add 1 teaspoon of olive oil and cook sliced onions for 2 minutes stirring them as they start to turn translucent.  Season with a 1/2 teaspoon of sesame oil and a pinch of salt and pepper.  Add onions to the large bowl of noodles.  Repeat the same process as the onions except reduce cooking times to 30 seconds for the carrots, 2 minutes for the bell red pepper, 1 minute for the shiitake mushrooms, and 10 seconds for the green onions.  Fry tofu squares for 1 minute per side – but do not add tofu to the large bowl of noodles.
Add 2 tablespoons of soy sauce, 1 tablespoon of sesame oil, and 2 tablespoons of sugar, and ½ teaspoon of ground pepper to the large noodle bowl and toss everything until well mixed.
Add 1 tablespoon of olive oil to the hot wok and add minced garlic.  Allow garlic to cook for a few seconds and add the entire bowl of mix noodles and vegetables to the wok/pan.  Stir-fry everything for 2-3 minutes and turn off heat.  Gently add tofu and transfer noodles to a large serving platter. Sprinkle toasted sesame seeds on top.  Serve warm or cold.  Enjoy!.