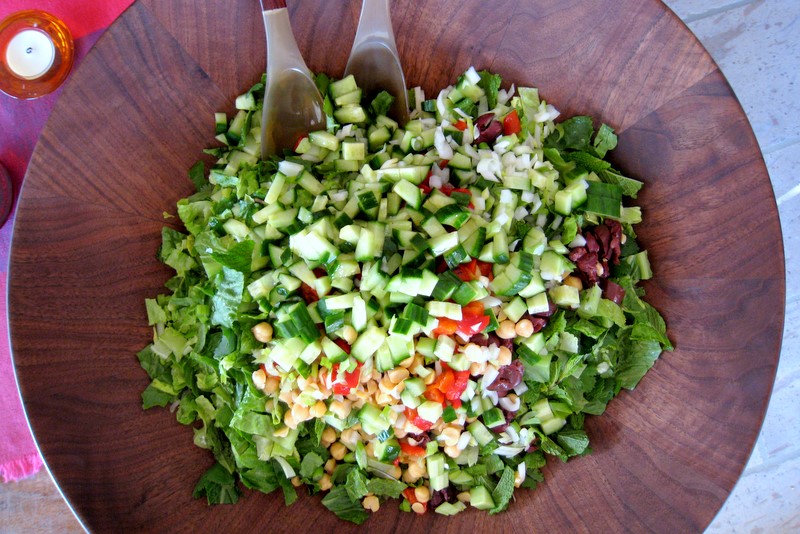 Chopped salad, ready to be dressed and tossed
Chopped salad is just exactly what it sounds like: a salad whose ingredients have all been cut down to a fairly uniform size, around 1/2″ cubes. It works well as a side dish and it shines as one of the all time great entree salads when you want a lighter meal. It is easy to eat because the diner doesn't have to take anything apart with a knife, which makes it particularly good for a dinner party.
The classic leaf for a chopped salad is romaine lettuce hearts. You can use some of the dark greens as well, but the ribs provide the structure that keeps the salad in cubes with some airspace, instead of collapsing into a mass of slimy leaves. A fantastic way to cut romaine is to make some lengthwise incisions, leaving the base intact, before cutting across the leaves at 1/2″ intervals. Three of these lengthwise cuts is great for a normal salad, but for a chopped salad try five.
As with any salad, the lettuce must be scrupulously, absolutely dry. If you don't have a great salad spinner, I highly recommend this one from OXO Good Grips; it works like a champ.
If you go to a restaurant that specialized in chopped salads, you might see it made by putting all the ingredients on a single cutting board and rapidly Benihana-ing them with multiple knives. That makes a good show but isn't a very practical technique at home. I like to do each ingredient individually for maximum control. Even the chickpeas get a once over though, to create the chopped texture.
Beyond the romaine, you can chose just about any other salad ingredients that play well together. I've suggested one grouping below, but feel free to make up your own. I particularly like to include rather large amounts of fresh herbs such as mint.
If it is more convenient, you can make part of this salad several hours in advance. Bell peppers, cucumbers, olives, chickpeas and so forth can all be cubed and refrigerated until gametime. The lettuce can be washed, cut, and spun dry about an hour ahead and put back in the fridge to chill and remove the last bit of moisture in a low humidity environment. Just don't weight it down with the other ingredients, or god forbid, dress it, until the last minute.
Here's the version I happened to serve today; don't hesitate to change it to suit your mood, menu or produce bin.
Chopped Salad
Vegetarian and gluten-free; vegan if you don't use cheese
Serves 4
2/3 cup cooked chickpeas, roughly chopped
1/2 English cucumber, 1/2″ cubes
1/2 cup pitted kalamata olives, roughly chopped
1/4 cup sweet onion, minced
1/2 cup jarred roasted red pepper, small dice
2 green onions, 1/4″ lengths
1/2 cup feta cheese, crumbled
3 romaine lettuce hearts, cut as described above
1 handful mint leaves, roughly torn
dressing of your choice; this lemon-mustard vinaigrette is a fine choice