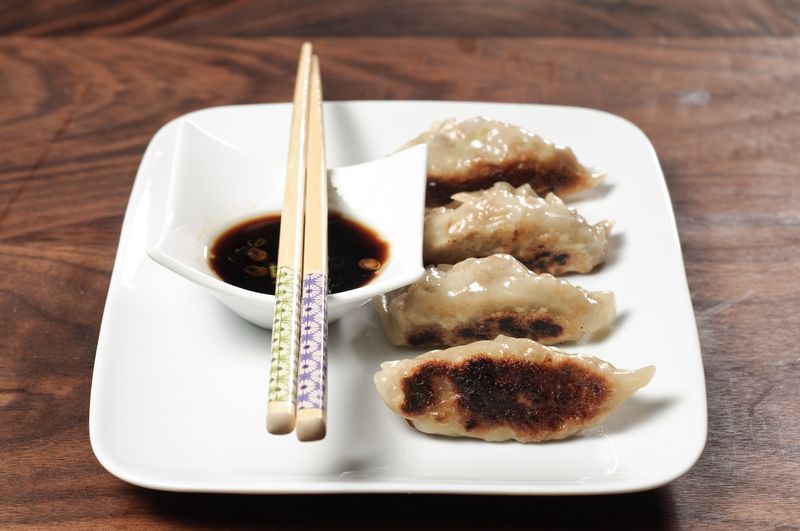 Vegetarian potstickers (aka gyoza)
The first rule of potstickers is that you can never make enough potstickers. At least in my family, we fight over the last few like seagulls over a spilled bag of kettle corn.
If you haven't had them, potstickers are Chinese or Japanese pan-fried dumplings with a savory filling, dipped in a soy, vinegar and sesame oil sauce. What is not to like? Plan on making a minimum of 4 per person as an appetizer, but really you could make a whole meal of a big plate of potstickers along with a salad or two and a beer and I bet you wouldn't get any complaints.
Potstickers aren't really about the filling. The main event is the dumpling wrapper itself, which gets deeply caramelized on the bottom. The most common meat filling is a mashed mixture of pork and shrimp. Which pretty much tells you right there, you aren't going for a distinct flavor inside. The goal is to make something with an umami bass note and a firm, toothsome texture.
Where most vegetarian potstickers go wrong is by trying to use too many vegetables in the filling. I've had godawful versions stuffed with spinach, or lots of water chestnuts and so forth. This is not the place for a distracting crunch, and you certainly don't want it leaching water. My filling of choice is tempeh. I saute it first to develop the flavor, and then crumble it and mash it with the other ingredients. It gives just the right bite.
Potstickers get their name because of the unusual cooking technique. The dumplings are first fried in a lightly oiled pan until they brown and stick a bit. Then water is added and the pan covered to steam the tops and release the bottoms. Finally, the lid is removed and the remaining water cooked off.
Other names for potstickers: Jiaozi (Chinese, pretty much any dumpling), guotie (Chinese, specifically pan-fried dumplings), gyoza (Japanese, any dumpling), yaki-gyoza (again, pan-fried).
If for some reason you don't need the whole batch at once, quick freeze them without touching each other, then bag when solid. They can be cooked later without defrosting, just allow a little more time. I have a few frozen right now and it is positively killing me not to go cook them off at 11 PM after finishing this post!
Vegetarian Potstickers (Gyoza) – Recipe
Vegetarian and vegan
Makes about 48 dumplings
For the sauce:
1/4 cup good quality soy sauce / shoyu / tamari
2 tablespoons rice vinegar
1-2 teaspoons hot-chili sesame oil (or 1-2 teaspoons plain Chinese sesame oil and 1/2 teaspoon chili paste)
1 green onion, whites parts only, cut into tiny thin rings
Combine all ingredients, taste for salt/vinegar/heat balance and set aside. I like mine pretty vinegary.
For the potstickers (gyoza):
3 tablespoons vegetable oil, divided
1 pound tempeh, cut into thin slabs
1 cup very thinly sliced Napa or green cabbage
6 green onions, white and light green parts only, minced
4 teaspoons Chinese rice wine (sherry is a good substitute)
2 tablespoons soy sauce
1 tablespoon cornstarch
48 potsticker wrappers (that is about one normal package; if possible choose a "thick" variety)
Heat a large skillet, preferably cast iron, with a tight-fitting lid, over a medium-high flame. Add 2 tablespoons of oil. Fry the tempeh in a single layer, working in batches if needed, until golden brown on both sides. Set aside to cool.
Fry the cabbage for a few minutes until browned and most water removed. Turn off the heat.
Thoroughly crumble the tempeh into a bowl. Combine it with the cabbage, green onions, rice wine or sherry and soy sauce. Taste and adjust salt as needed. You can also add more rice wine or soy, but don't make it too wet. When you are satisfied with the taste, sprinkle in the cornstarch and toss thoroughly to combine. (This will absorb any water released when the dumplings are cooked).
To form the potsticker dumplings, take one wrapper and moisten the entire edge with a fingertip or pastry brush dipped in water. Place a heaping teaspoon of filling in the center. Pick it up, fold in half, and seal the edge. Crimp if you like. If you want to be a pro-crimper, see this post from Jaden. Set on a plate or sheet pan, crimp side up and flat side down.
To cook the potstickers, heat that big skillet back up again to medium-high and add the remaining tablespoon of oil. Put the potstickers in in a single layer, flat side down, not touching but they can be close. Fry 1-2 minutes until they are dark golden brown on the bottom. Add 1/3 cup of water and cover the pan. Cook about 3 minutes. Remove the lid and keep cooking until the water is totally gone – otherwise they won't be crispy.
Serve hot, with the dipping sauce.