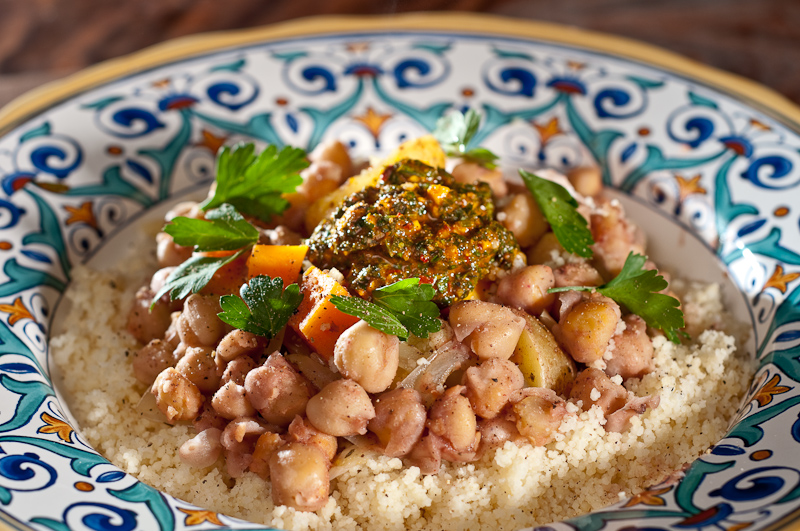 Chermoula sauce (served on a vegetable tagine and couscous)
I hereby nominate chermoula as the "it" sauce for 2010. (I'm pretty sure last year it was chimichurri, and of course we all remember the pesto riots of 1986, and aioli threatening to flood Central Park in 2001.)
Chermoula is typically used as a marinade for fish in its North African home territory, but it can also be used as a stuffing or sauce. I served it with a simple harissa-spiked tagine of butternut squash and potatoes with chickpeas, over fluffy couscous.
If you look around the web, you'll see there are any number of variations of chermoula. Some use only cilantro while others include parsley. Some use preserved lemon, while others prefer just the fresh juice. I got a little crazy and added smoked paprika instead of plain, and a bit of fresh ginger (some recipes call for dried, most none at all). You should feel free to adapt it to your mood and what you have on hand.
Chermoula is one of these great sauces that require you to do nothing more than put all the ingredients in a mini-food processor and buzz them until you reach the desired consistency, which should be still a little rough, not fully pureed. Five minutes of work. It will taste even better if you make it an hour or so in advance to let the flavors develop.
Of course if you want to be more traditional, you can go at your chermoula in a mortar and pestle. (The standard move in this case is to claim that the result is incomparably better than anything made with a motor – it might even be true.)
Chermoula Sauce
Vegetarian, Vegan, and Gluten-Free
Yields about 3/4 cup
Prep time: 10 minutes
Cook time: none!
1 bunch of cilantro, leaves and tender stems only, well washed
1 handful flat-leaf (Italian) parsley leaves
4 cloves garlic, roughly chopped
2 tablespoons smoked paprika
1 tablespoon cumin power
2 teaspoons grated fresh ginger
1/2 teaspoon chili flakes
big pinch of saffron
1/2 teaspoon coriander seeds
3 tablespoons olive oil
juice of 1 lemon or 1/2 of a preserved lemon, roughly chopped
1 teaspoon Kosher salt
Combine all ingredients in a mini-food processor, spice grinder, or mortar and pestle. Process until a thick, moderately rough sauce is formed.