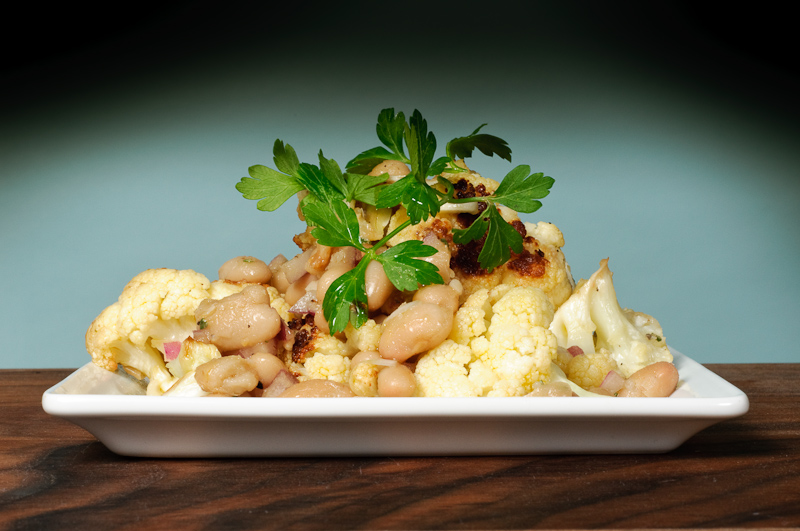 Roasted cauliflower salad with white beans
Roasted cauliflower is a staple side-dish in my house. We all love that caramelized flavor. And because cauliflower keeps quite well in the refrigerator, it works well with our lifestyle. We don't always know how many times in a given week we're going to get to prepare a full meal.
Simply roasting the cauliflower with olive oil and salt is terrific. But there is no limit to the ways you can dress it up with minimal additional effort. The active preparation time is no more than 10 or 15 minutes. Today's version with white beans turns it into a rather hearty salad.
I based the flavors around Etruria's orange-infused olive oil (from ChefShop)
with which I've been completely obsessed for the past few weeks. If you don't have that, a couple of other options would be to use finely grated orange zest with an unflavored but delicious extra-virgin olive oil, or you could use some of Trader Joe's tasty Orange Muscat Champagne Vinegar.
I like to cut a head of cauliflower into quarters, remove some of the core, and then break it up by hand from there. Once you get the hang of it, this technique produces more attractive, intact, round florets instead of the flat surfaces from a knife, and is just as fast. Try it and see if you don't agree.
The first version I did of this dish was served hot, omitted the beans, and added homemade breadcrumbs lots of chili flakes, and fresh mint. It also tasted great but I took a lousy picture of it! I hate it when that happens.
Other possible elaborations: green olives, raisins and capers (for a Sicilian spin), diced tomatoes, feta cheese, roasted garlic cloves.
Roasted Cauliflower and White Bean Salad with Orange Olive Oil Dressing
Serves 4
Vegetarian, vegan & gluten free
1 medium head cauliflower, cut into florets (see above)
2 tablespoons (plain) extra virgin olive oil
1 small can white beans, thoroughly drained and rinsed
1/3 cup finely diced red onion, sweet white onion, or shallot
2 cloves garlic, minced
3 tablespoons orange-infused olive oil (or see above for alternatives)
2 tablespoons sherry vinegar (or a nice red wine vinegar, or lemon juice)
1/2 teaspoon fresh rosemary, minced
1/4 teaspoon fresh ground black pepper
sea salt
flat-leaf parsley (minced or not, your choice)
Preheat oven to 450 F. Toss the cauliflower with the unflavored olive oil and a generous pinch or two of salt. If you like, you can microwave for 5 minutes first to reduce the oven time. Roast until there are many deep brown patches, about 20 minutes or so.
Meanwhile, combine the rinsed beans, onion, garlic, orange-infused olive oil, sherry vinegary, rosemary, black pepper and 1 teaspoon of salt. Taste and adjust seasoning. Remember that you want a strong flavor because you will be combining this mixture with the cauliflower.
When the cauliflower is done, toss the beans and dressing with it while it is still warm. Allow to cool to room temperature, garnish with parsley, and serve.