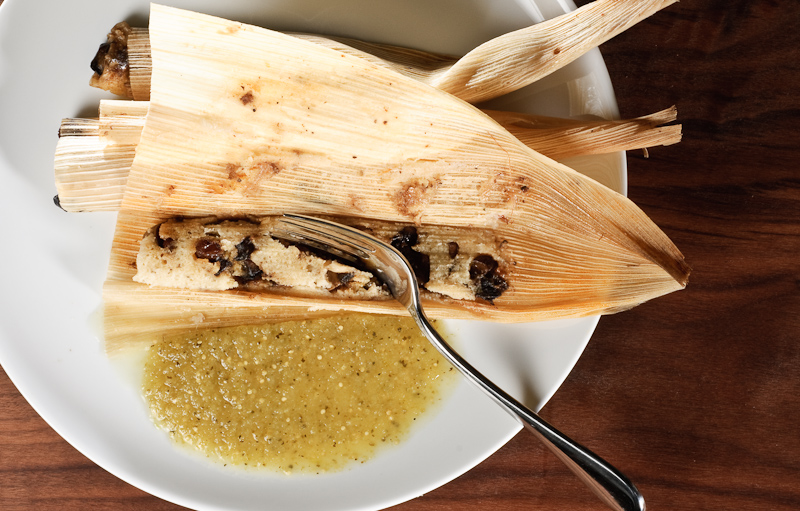 Vegetarian tamales with a red chile portabella filling
Tamales have got to be one of my favorite things to make and eat. Sure, they are a bit of a production. Traditionally, you would have a group of friends and family for a tamale party (tamalada), working together to make a happy assembly line (with plenty of cervezas). So far, I've mostly made them myself. My kiddo was enthusiastic but unfortunately got frustrated when it required a little precision in the spreading of the masa and fillings. Lesson learned: I should have encouraged her to just make a few as best she could!
I usually make two or three different vegetarian fillings, and fill up a big steamer with around fifty smallish tamales. That way I can feed six people and easily have leftovers for another meal or so. A pound of fresh masa will make 16 this size, so 3 pounds will fill up my biggest steamer.
Today's filling is a vegetarian riff on Rick Bayless' formula for Nuevo León Style Tamales from his epic and indispensable Authentic Mexican
. The pork shoulder is replaced by cubed and sauteed portabella mushrooms. I use the mushroom stems to make the broth base for the red-chili sauce.
I'm not going to go into the whole technique of making them tamales themselves. There is excellent step-by-step information in the aforementioned book, or in this pictorial guide by Robin. Just remember to beat the shortening (or butter) and masa mixture really well, to incorporate plenty of air. A ball of it should float in a glas of water. And use some of the reserved sauce below as part of the broth component when mixing the dough; it will add lots of extra flavor.
Vegetarian Nuevo León Style Tamale Filling
Vegetarian, vegan, and gluten-free
Enough for 16 smallish tamales (1.5 tablespoons of filling in each)
1 pound portabella mushrooms
5 whole dried chiles (combination of ancho, New Mexico, cascabel, etc. to your taste)
1/4 teaspoon freshly ground black pepper
1/4 teaspoon ground cumin
1 clove garlic, minced
1 teaspoon sugar
3 tablespoons vegetable oil, divided
2 tablespoons raisins (optional but very good)
1/4 cup pitted green olives, roughly chopped (optional but also very good)
Separate the portabella stems from the caps. Roughly chop the stems, and cut the caps into 1/4″ dice.
Put the stems in a saucepan with two cups water and a pinch of salt, and bring to a simmer for 15 minutes. Meanwhile, saute the caps with two tablespoons of oil and a pinch of salt until all the liquid has cooked out and they are tender.
Wearing rubber gloves, tear the chilis into large flat sections, and dispose of the seeds and stems. Toast the chili flesh on a dry, medium hot skillet for a minute or two, until fragrant. Don't burn them.
Remove the portabella stems from the broth and discard them. Add the chiles, black pepper, cumin, garlic and sugar. Puree, preferably with an immersion blender. (Be very careful when blending hot liquids and know how to do it safely!). Back in the original saucepan, heat the remaining tablespoon of oil. Add the sauce back in, let it sputter for a minute, then lower the heat to maintain a simmer and reduce until you have about 1 cup left. Taste and adjust the seasoning.
Add 3/4 cup of the sauce to the mushrooms and cook together for a few minutes. Stir in the raisins and olives. Taste and adjust the final seasoning. You might also like just a little squeeze of orange or lemon juice and/or a bit of Mexican oregano to enhance the flavor. Remember to use the remaining bit of sauce in the tamale dough itself.