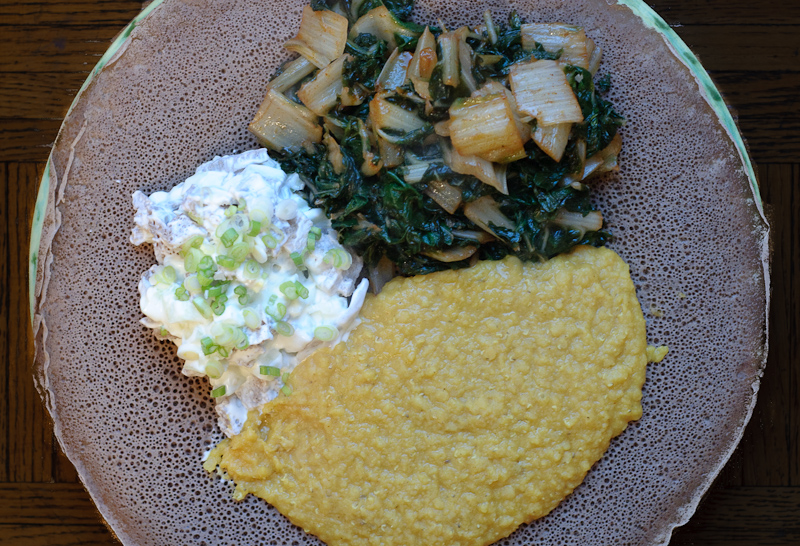 Mesir wat – Ethiopian red lentil puree
I've loved Ethiopian food for years. The cuisine is very vegetarian friendly, with many dishes based on lentils, and various vegetable stews, all served with copious quantities of injera – a delicious, slightly sour and spongy flatbread which serves as both plate and eating utensil.
For some reason, while I cook food from all over the world, I've never made a lot of Ethiopian food at home. This clearly needed to change, especially given that Seattle has the good fortune to be home to a large Ethiopian community, with excellent restaurants and groceries, many within blocks of my house.
So I'm on a mission to learn this food, and I'll share it with you along the way. I hope to make some connections in the community here and be able to gain more first hand insight into the ingredients and techniques. (If you live in Seattle and want to teach me, please leave a comment below!)
Today's dish is mesir wat – a simple and nourishing puree of red lentils with ginger, onions and spices. Red lentils are great because they rapidly puree themselves when simmered. (I also love them in this Syrian soup – shurbat addes). The technique for this dish isn't so different than for an Indian dal, but made thick enough that it can be picked up directly with injera.
If you have access to an Ethiopian grocery (or restaurant), piles of fresh injera are easy to come by. Or you can make your own, but it is a bit of a project it seems. If you want to try this recipe but don't have injera, it would still be delicious served with rice, or thinned slightly into soup.
Mesir Wat – Ethiopian Red Lentil Puree
Adapted from whats4eats
Vegetarian, vegan if you use oil instead of butter, and gluten-free
Serves 4 as part of a larger meal
2 cups red lentils, picked over and rinsed
1 medium onion, roughly chopped
2 cloves garlic, roughly chopped
1 big knob of fresh ginger, peeled and roughly chopped
3 tablespoons butter or oil
1 tablespoon paprika or other mild red pepper
1 teaspoon turmeric
1/2 teaspoon cayenne (or to taste)
salt
In a medium saucepan, cover the lentils with about 1 inch of water and bring to a boil. Reduce to a simmer. Stir occasionally to avoid scorching on the bottom, and add more water if it gets low. Start this going and move on to the next step.
Meanwhile, in a blender or mini food processor, puree the onion, garlic and ginger.
Heat the butter or oil over a medium flame in a small skillet. Add the paprika, turmeric and cayene, and fry for 30 seconds. Add the onion mixture and fry for about 10 minutes, until rather dry and lightly browned.
Scrape the mixture from the skillet into the lentil and add about 1/2 teaspoon of salt. Continue to simmer until the lentils are fully pureed. The total time starting at step 1 will probably be about 40 minutes. Add water if too thick or cook a little longer if too thin. The ideal texture is thick enough to stand up a little on a spoon, but not thick like, say, hummus. A little thicker than applesauce. Taste and adjust the seasoning.