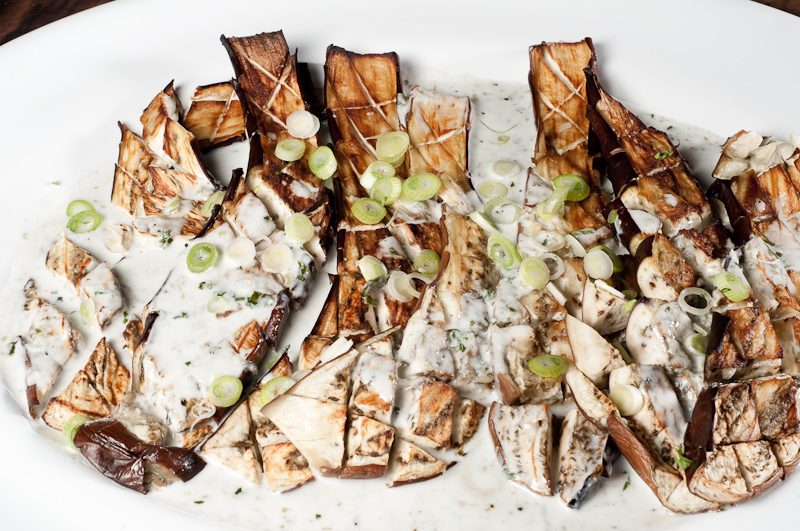 Eggplant in a kaffir-lime scented coconut-milk curry
Today's dish is a coconut milk-based curry, with some, but not all of the same ingredients you would find in a typical Thai green curry. I planned to serve it with two other quite spicy dishes (stay tuned, or join our new Facebook fan page for a hint), so I wanted this dish to be mild but very aromatic.
Kaffir lime is one of my favorite flavors. It has a clean, high-note citrus flavor without any actual acidity. It tastes almost like essential oil of lime. The only risk is if you use too much, you could end up with a sauce that tastes like Pledge! (A lemon scented furniture polish, for those of you who didn't grow up with it).
This dish tries to push right up to that line without going over. If you can't find kaffir lime, use 2 teaspoons of lime zest – but it won't be the same.
When making coconut-milk based sauces, it is important not to let them simmer and reduce for long, or they can develop an unpleasant gelatinous texture. There may or may not be certain members of my household who are particularly sensitive to gelatinous textures.
This time I opted not to cook the coconut milk at all, I simply stirred it in to the fried curry paste and turned off the heat. I liked the result; you don't get the green color in the sauce, but you do get very distinct, bright flavors.
Thai Eggplant in Coconut Curry
Vegetarian, vegan and gluten-free
Serves 4 as part of a rice-based meal
4 large, long Japanese eggplants (more if smaller)
6 tablespoons vegetable oil, divided
salt
5 kaffir lime leaves, thinly sliced
2 stalks lemongrass, roughly chopped (read the technique here)
2 cloves garlic, roughly chopped
1 inch piece ginger, roughly chopped
handful Thai basil, roughly chopped
juice of 1 lime
1 can of coconut milk
2 green onions, thinly sliced
Preheat the oven to 450, using convection if possible. Slice the eggplants lengthwise. Score them deeply on the diagonal, into diamonds, being careful not to cut all the way through. See the picture above. Brush with 1/4 cup of the vegetable oil and season with salt. Roast in the oven on a baking sheet until completely tender and browning, at least 30 minutes.
Meanwhile, in a mini food processor or a mortar and pestle, combine the kaffir lime leaves, lemongrass, garlic, ginger and Thai basil and 1/2 teaspoon salt. Process or pound until you have a fairly fine paste. Mix in the lime juice.
Heat the remaining 2 tablespoons of oil in a skillet. Fry the curry paste for 1 minute. Turn off the heat and mix in the coconut milk. Let rest a few minutes, then taste and adjust salt and lime juice.
When the eggplant is done, pour half of the sauce on a large, warmed serving platter. Transfer the eggplant to the platter and pour more sauce over the top. You might not need all of it. Garnish with the green onions and serve.