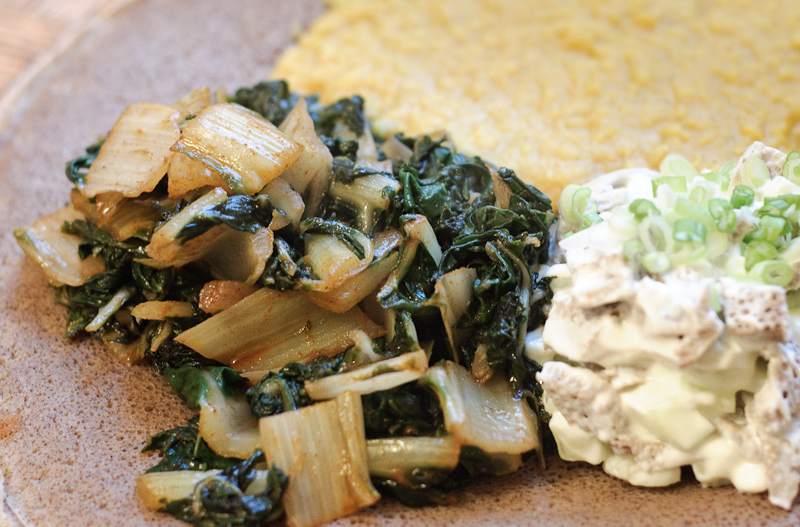 Swiss chard cooked with berbere
Berbere, the quintessential Ethiopian spice mixture, is great to have in your pantry, because it can add complex spice and heat to any basic preparation of vegetables. Depending on the cook, in addition to the chiles it is likely to have ginger, cloves, coriander, allspice, and less familiar flavors like long pepper, ajwain, and rue and more. If you don't have ready access to and Ethiopian grocery, you can make your own or buy berbere on Amazon
.
I call this recipe "Ethiopian-Style" rather than authentic, because I haven't seen chard prepared exactly this way. That said, at least to my non-native palate it fit well in a meal with traditional dishes and injera.
This dish will only take you about 10 minutes of active preparation, and then a little bit of supervision while the greens cook down.
Chard is a great option when you are feeding folks who don't necessarily love the stronger tasting greens like mustard, collard or kale. But you should feel free to experiment. If you do use chard, don't event think of throwing out the stems. When cooked through they are succulent and delicious.
Ethiopian-Style Chard with Berbere
Serves 4 as a side dish
Vegetarian, vegan if you use oil instead of butter, and gluten-free
2 tablespoons unsalted butter or oil
1/2 onion, thinly slices
2 cloves garlic, finely chopped
1 -  3 tablespoons of berbere
2 heads of chard, washed, trimmed, leaves stripped, and stems chopped into bite-sized pieces. Leave it damp.
salt
Heat the butter or oil in a large, preferably cast iron, skillet over medium-high heat.
Fry the onion and garlic for 2 minutes.
Add 1 tablespoon of the berbere (more if you know you want the heat) and cook for 10 seconds. Immediately add the damp chard and stir to make sure the spices don't burn. Add two big pinches of salt. Stir.
Add a couple tablespoons of water if needed and cover for 10 minutes or so, until the greens are wilted and the stems tender. Remove lid and cook of remaining water. The greens should be gilded with butter and spices.
Taste and adjust seasoning. You may want more berbere or salt. A squeeze of lemon juice might be good too.