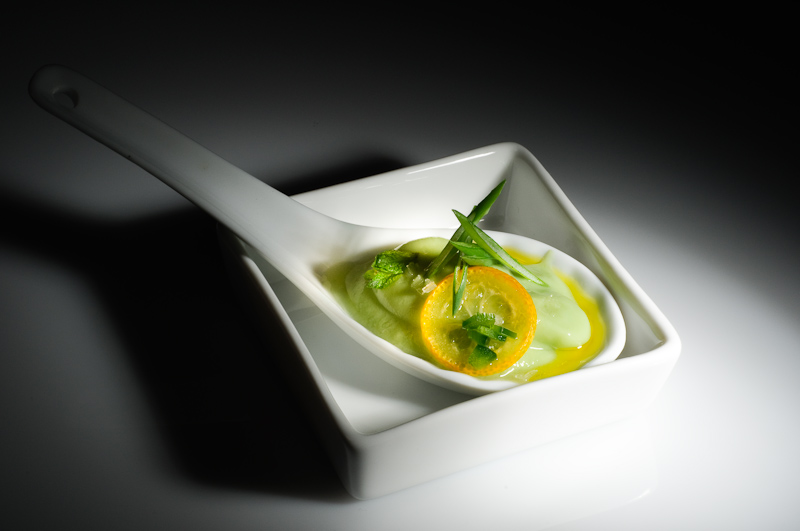 Amuse bouche of avocado, kumquat, green onion, jalapeno, mint
So I came home with some kumquats, and, in the mood to just play with a fun ingredient, set about creating an amuse bouche. I never meant it to be part of this series, but that's how it worked out.
If you aren't familiar with them, an amuse is just what it sounds like – a single bite meant to amuse the palate before a meal commences in earnest. They are one of my favorite forms to experiment with because there is room for great creativity when you aren't constrained to make something you would want a big portion of. The flavors can be bolder, richer or more unusual.
And in this case, I totally failed.
Without much conscious thought, I was applying exactly the concepts I've talked about in this series of articles. I made an avocado "soup" which had plenty of fat, and a drizzle of Mandarin olive oil sealed the deal. The kumquats provided acidity. Green onions, jalapeno, and mint added crunch and brightness, and flakes of my beloved Maldon (aka the world's greatest salt)
rounded out the pattern.
And it sort of sucked.
Why? Although I had all four components, they were totally out of balance. The avocado puree was so rich, it coated your palate and pretty much obliterated everything else. The other ingredients seemed lost in a sea of creaminess.
So the point is, it isn't enough just to include salt, acid, fat and crunch and assume you will make a great dish. There has to be an appropriate balance, where each component can be appreciated. One may be subtle, and another bold, but not to the point of overpowering the whole composition.
That doesn't apply only to fancy-pants amuse bouches, either. Think of a humble green salad with vinaigrette. The greens provide the crunch, while the dressing should have a good balance of oil, vinegar and salt. When that balance is achieved, it is refreshing and delicious. If the vinaigrette has too much oil or vinegar, or the whole salad is overdressed, that appeal is lost.
So how would I have fixed this dish? A good approach using the same ingredients would be to use kumquat juice as the "soup", and tiny dice of avocado as part of the garnish. The sour juice would hit your palate first, and the avocado would offer a soothing counterpoint.
Oh well. Here's to mistakes, aka learning opportunities.