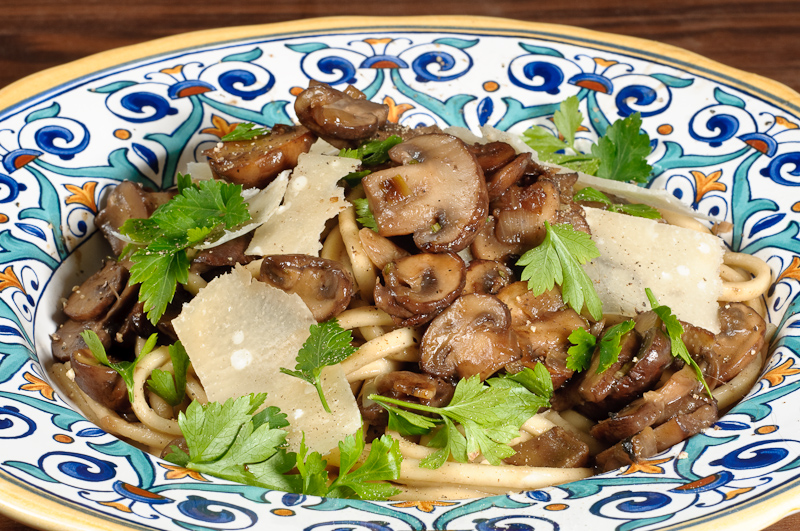 Stringozzi con funghi (pasta with mushrooms)
Living in Seattle, we get some of the best wild mushrooms in the country at our markets, often within hours of being foraged. The bounty of morels, chanterelles, porcini, maitake, and dozens of other varieties is astonishing. Sometimes I forget how delicious cultivated button mushrooms can be.
This bag of beautiful stringozzi (a thick, square-profiled noodle) came from ChefShop.com. Owner Tim Mar sources them from Etruria, a boutique importer of foods from Umbria. Tim gave me a heads up that this pasta is unusually filling, and he was quite right. A 1/2 kilo (17.6 oz) bag would serve 6 hungry adults. (Full disclosure: ChefShop has occasionally given me sample products and I earn a small amount from sales when you click through my links.)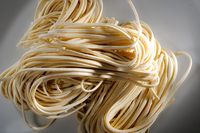 Stringozzi are quite a bit thicker than the average straight pasta you see. Not at thick as the Tuscan pici, but getting up there. If you want to make this dish and can't get them, use linguini or even spaghetti and plan on using a bit more per person.
This dish is super simple to make. The critical step is in the final minute of cooking the pasta together with the mushrooms. Be sure and add enough of the pasta cooking water to actually deglaze the pan and develop a bit of sauce. If you serve this dry ("tight" as chefs say), it will be bland and chewy. There should be a little shine. You never need to fear diluting your sauce with pasta water. It is already seasoned with salt and has some body from the starch shed by the noodles, so in small quantities, it won't be watery.
If you don't want to open a bottle of white wine for this dish, dry vermouth works well. It has a different flavor, but one I find appealing. I keep a bottle on hand at all times. Gotta be able to make a martini anyhow, right?
Stringozzi (or linguini) con funghi (Simple pasta with mushrooms)
Vegetarian; vegan if you omit the cheese and use olive oil instead of butter
Serves 6 if made with stringozzi, 4 otherwise
3 tablespoons butter, divided
1/2 white onion, finely diced
4 cloves garlic
1 1/2 pounds white or brown button mushrooms, sliced scant 1/4″ thick
1/2 cup white wine or vermouth
1/2 kilo (about 1 pound) stringozzi or other long but not wide strand pasta, preferably thick
salt
pepper
parmigiano reggiano, grated or cut with a vegetable peeler
flat-leaf (Italian) parsley leaves, minced or left whole to your taste
Bring a very large pot of well-salted water to a full, rolling boil. Put your serving bowl or bowls somewhere to warm up.
In a very large skillet (not-non stick), melt two tablespoons of the butter over a medium-high flame. Saute the onion and garlic with a pinch of salt for two minutes.
Add the sliced mushrooms and about 1/4 teaspoon of salt. Cooking, turning occasionally, until they release their moisture and then start to brown. Deglaze the pan with the white wine. Taste a mushroom and adjust seasoning.
When the mushrooms are nearly done, boil the pasta according to the package directions being sure to leave it al dente. Reserve 2 cups of the cooking water and drain the pasta.
Add the remaining tablespoon of butter to the mushrooms and stir. Add the pasta to the mushrooms and mix thoroughly, being sure to scrape the browned bits from the bottom of the pan in. Add the pasta water, a little at a time until the pasta is quite lightly sauced, but there is a little sheen. You probably won't need all of the pasta water.
Serve the pasta family style in a big bowl, or plate individually. Be sure and get all those delicious mushrooms onto the pasta. Finish with parmigiano-reggiano, fresh ground black pepper, and lots of flat-leaf parsley.