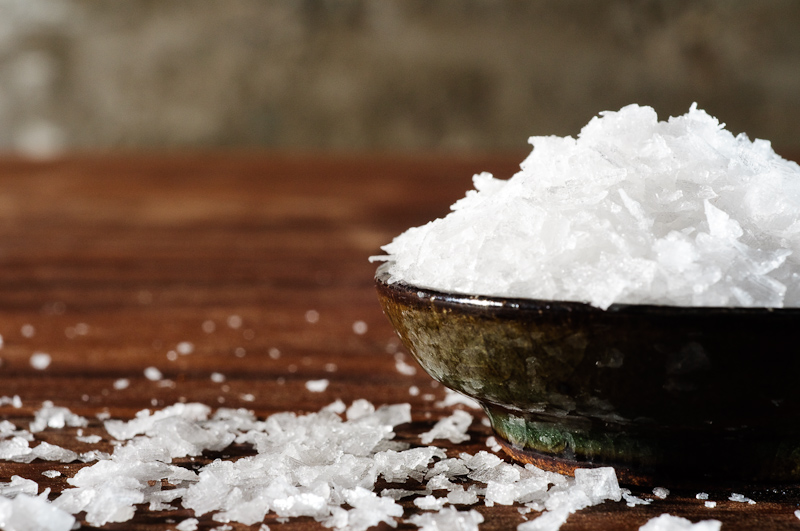 Flaky Maldon (aka the world's greatest sea salt), my personal favorite
Ask a professional chef to taste and evaluate a dish, and odds are that if they think it needs something, that something will be salt, acid, fat, or crunch.
Why? Because these are fundamental elements that make food pop. They aren't going to turn undercooked eggplant into a silk purse, but if you give these actors a solid basic dish to work with, they can transform it into a knockout. I never develop a new recipe without at least considering how I have them in play. You could make it your culinary New Year's resolution to do the same.
Today, we'll take a look at salt, and over the next few weeks, I'll complete the series with acid, fat and crunch. [Note: acid is up now]
Salt is the most basic taste enhancer, and the one home cooks are most afraid of. I think there are two fears. First, in most cases oversalted food can't be easily fixed. So rather than take a chance, it becomes easy to think "well, if they want more they can just add it at the table". The problem is, food needs salt during the cooking process. The salt helps extract moisture and concentrate flavor, and it needs to be in the interior of the food when you bite into it.
Second, people are concerned over the link between sodium and hypertension. If you are worried about this, I can do you no greater service than to refer you to the chapter on salt in Jeffrey Steingarten's The Man Who Ate Everything
, which you should read anyhow because the whole book is informative and hilarious. Obviously if your health professional has told you to minimize salt, listen to them, but if you are just doing it out of general free-floating anxiety, read Steingarten's well-researched piece and see what you think.
If you want to fully appreciate the importance of salt in making food appetizing, try a head-to-head comparison. Scramble two eggs with absolutely no salt, and two more with a couple of good pinches. Or spread a piece of good bread with unsalted butter, and then eat a bite with or without a bit of salt sprinkled on top. In both cases, without the salt you have a sort of bland, neutral sweetness. The salt balances the sweetness and allows you to taste much more complexity and subtlety.
Good cooks salt food as they go, and taste frequently. When sauteing, I do this as each group of ingredients is added to the pan.  If you look through my recipes on this site, you'll see that almost every step includes an instruction like "taste and adjust seasoning", or "salt to taste". One of my great fears when writing recipes is that those instructions will be ignored, and salt will be only an afterthought.
Palates differ, ingredients differ, salts differ, and often what is needed is just a pinch or two – too little to be worth measuring. Keep an open container of Kosher salt next to your stove, and add a bit at a time until you suddenly hear the flavors sing. With practice, you'll hear that chorus easily.
You'll notice I said Kosher salt. I use it almost exclusively for general cooking (as opposed to finishing dishes), because the larger grain size makes it easier to pick up and distribute. For baking, you have to hope the recipe author tells you whether Kosher or fine-grained "table" salt is intended, as they have different weights for the same volume.
Finishing dishes with salt can be the real coup de grace. Something about having a few grains of salt as the first thing that meets your palate is innately appetizing to most people. Think of a well seasoned french fry. Salt hits your tongue, almost too much for a second, and then the crisp shell gives way to the fluffy, mild potato. Fried foods are obvious, but almost anything from caramels to polenta will appreciate a miniscule final sprinkle. (Italians have a concept of capriccioso, applied to chili flakes. Rather than mixing them in completely, they may add them at the last minute to get surprising little pinpricks of heat. Salt is the same way, it can be more exciting to taste the individual crystal.)
There are many wonderful finishing salts from all over the world. Any taste differences are quite minor. What counts is appearance and texture. I have quite a few of these salts, but I'd never be sad if I could only keep Maldon (aka the world's greatest salt)
. It is superbly flaky, adding an element of crunch as well as salinity.
If you have never bought a finishing salt before, you might choke on the idea of spending $7 for 8 ounces of salt. Remember, you are using it in tiny quantities. A single box lasts me months at home and adds pleasure to so many dishes. Give a box as a gift and to a friend and they will first look at you like you are nuts and then the next time you see them, they will thank you profusely.
So, are you ready to really season your food?