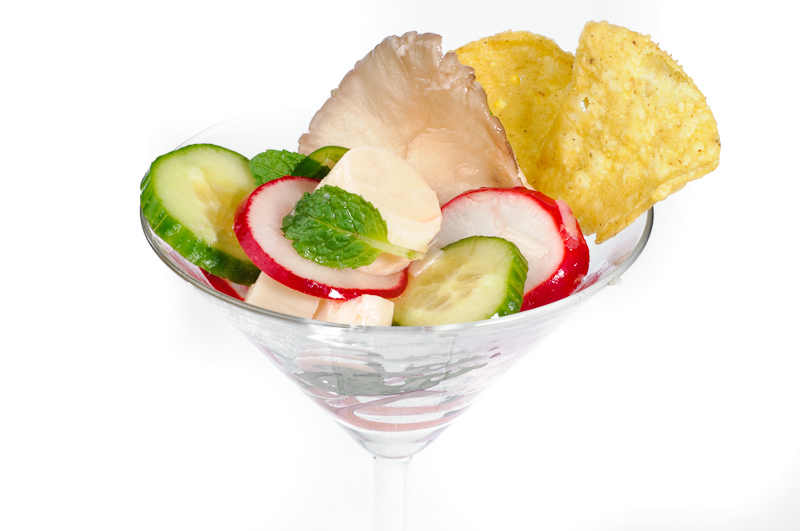 Vegetarian ceviche
Traditional ceviche is raw or lightly cooked fish and shellfish, marinated in citrus juices. Variations of it are served throughout Latin America. Each country has its own special twists on the ingredients, sauce, or crispy accompaniments.
Obviously it isn't the same thing, but you can absolutely make a vegetarian dish that capitalizes on some of those pleasures. If you think in terms of a composed salad, include some tropical and spicy elements, and use a dressing of citrus with no oil, there is lots of room to play. I included oyster mushrooms and (sustainably harvested) hearts of palm as somewhat humorous references to seafood – the oyster mushrooms by name and the palm by shape.
Ceviche usually includes something salty and crispy for contrast. Roasted corn kernels (something like Corn Nuts), popcorn, fried plantains are popular choices. I was short on time for today's dish so I simply used tortilla chips, but if I would have preferred a spiced up popcorn.
This would be fun to serve with cocktails, or as the first course of a dinner party.
Vegetarian Ceviche
Serves 4
Vegetarian, vegan, and gluten-free
juice of 1 lime
juice of Meyer lemon
4 oyster mushrooms
1/2 can hearts of palm, cut into bite-size rings
2 radishes, cut into thin circles
1/2 english cucumber, cut into circles
1 jalapeno pepper, seeded and cut into rings
a few rings of thinly sliced red onion
sea salt
a few mint or cilantro leaves
8 tortilla chips
Combine the lime and lemon juices with a bit of salt.
Toss the vegetables with the juice and let marinate for a couple of minutes.
Divide the vegetables among 4 serving vessels, making sure each gets an oyster mushroom and some of each other component.
Drizzle on a bit of the juice.
Finish with sea salt, mint or cilantro leaves, and 2 tortilla chips.