Never stop playing with your food! This is one of my favorite kitchen creativity games. Take a single ingredient, and cut it as many ways as you can think of, then observe the way the cuts and textures change your perception. Then take it a step further and let those new perceptions suggest simple flavor pairings.
These enormous, nearly black seedless grapes gave me all sorts of ideas.
Peeled and rolled in crispy crumbled rice crackers, Hawaiian black salt
Sliced so thin they are transparent, with fennel pollen and lemon zest
Peeled and cut into irregular "icebergs" with cilantro/pepita pesto
Fileted with sunflower butter
(below) Tops and bottoms removed, thinly sliced vertically, again with the cilantro/pepita pesto
Serve chilled.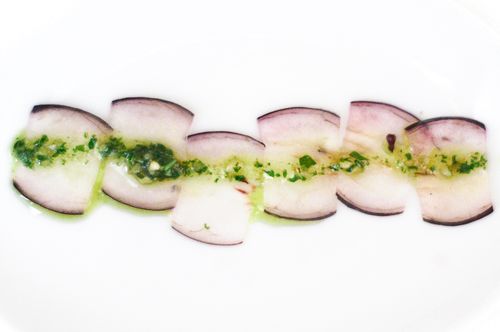 Grapes with cilantro/pepita pesto