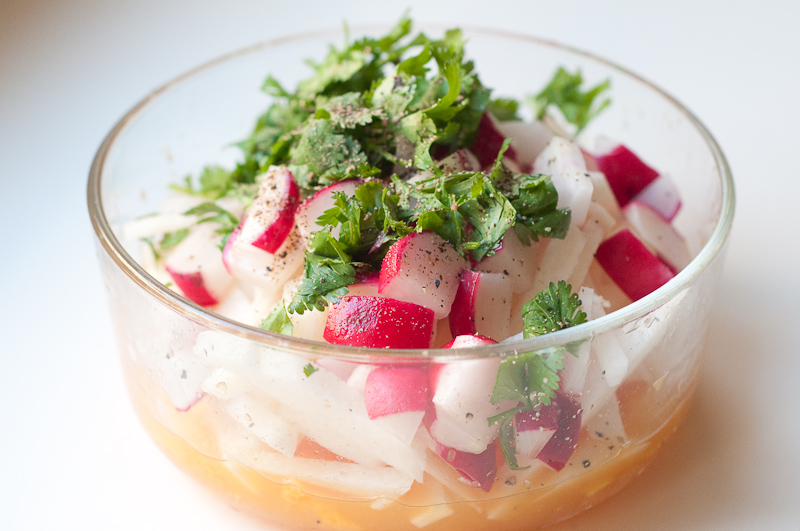 When I serve a filling entree, I like to have a refreshing salad. It offers a nice contrast, makes the meal a little lighter, and cuts the fattiness of the main dish. Here is a simple version, dressed only with fresh orange jucie, that goes great with Mexican and other Latin-American meals. You can work on it while your entree finishes cooking, or it is a great task to give to a friendly volunteer. Don't forget to pass them a cerveza!
If you haven't had jicama (pronounced hee-come-uh) before, you are in for a treat. The texture is crisp like an apple and a little sweet. I believe there are uses for it cooked, but I've only used them for salads. They are surprisingly easy to find in the specialty section of fairly average grocery stores, and of course you can find them at Mexican markets.
Jicama, Orange and Radish Salad
Vegetarian, vegan, and gluten-free
Serves 4 as a little side dish
1/2 jicama peeled and cut into 1/4" x 1/4" x 2" batons
1 big handful radishes, trimmed and cut into quarters
4 valencia oranges, cut into supremes (segments without the membrane, see this post for more discussion and another use), juice reserved
handful of cilantro leaves, roughly torn
salt
black pepper
Combine the jicama, radishes, orange segments and cilantro with a big pinch of salt and several hearty grinds of pepper.
Add 1/4 cup of the orange juice and toss lightly.
Taste and adjust seasoning.