I "met" Ivy Manning when my wife gave me her terrific first cookbook. Since then, we've become frequent visitors to each other's blogs, and we keep up on Twitter as well. (Come follow me or Ivy, we'd love to hear from you).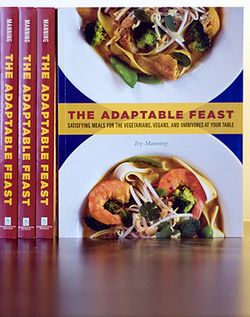 We've discovered that although she's an omnivore and I'm a vegetarian, our taste in food has a lot in common. Both of us love fresh, seasonal produce, preferably from local farms. And we both make dishes from all over the world, but tend to prefer fairly authentic approaches, not wild substitutions for simplicity or garish flavor combinations.
Naturally I've been awaiting Ivy's next book, and now it is here. As far as I know, The Adaptable Feast
is the first book to directly address the problem of making great meals for families that have a mix of omnivores and vegetarians or vegans. The idea was born from her own personal need; Ivy's husband is a committed vegetarian.
I think many families find themselves in this situation. Whether it is the cliche of a college student coming home for winter break having freshly gone veg, or a traditional Thanksgiving with a few of us herbivores mixed in, many cooks who prepare meat need ways to offer a meatless option.
Ivy has completely thought through each of these recipes and worked out a system for how to make one main preparation, segregate and finish a vegetarian portion and then complete the omnivorous recipe. Both groups will find that they have a delicious, flavorful, satisfying dish. You might just find the meat eaters begging for access to the vegetarian half!
I've already made one recipe from the book, for a Malaysian-style red curry paste, and it was superb. I'll be posting a dish based on it in the next few days.
Sasquatch Books has offered a free copy of The Adaptable Feast to one lucky Herbivoracious reader. All you have to do is make a comment below. Tell us your favorite cookbook, and why it is your favorite. Next Wednesday I'll pick a winner at random from all of the comments and arrange to send them the book. To enter you must leave a comment; sending me a tweet, reply on StumbleUpon etc. won't count.
Update 10/4/09: And the winner is commenter #7, Heather, who's favorite cookbook is Madhur Jaffrey's World Vegetarian. Thanks everyone for entering! And if you didn't win, I highly recommend purchasing Ivy's book – here's the link: