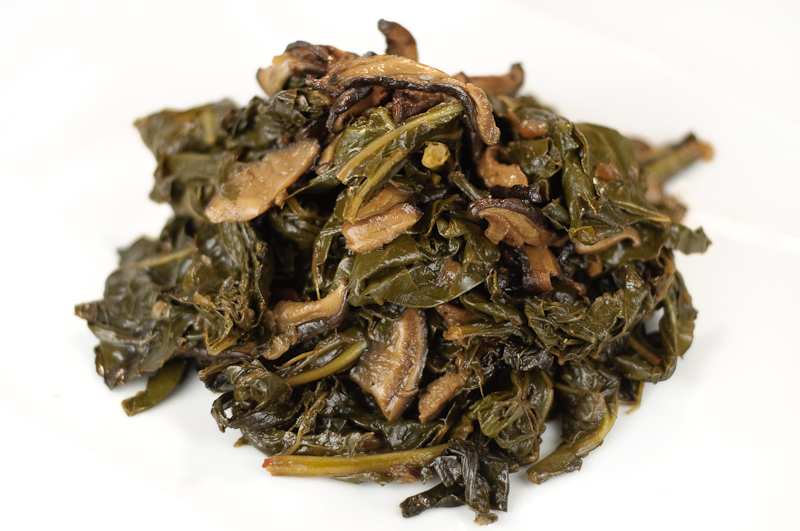 Veganized Southern-Style Collard Greens
So my brother and sister-in-law were browsing their farmer's market in Greensboro, North Carolina a few years ago when they spotted a pile of unfamiliar leafy greens. They asked the farmer how to prepare them, and her answer was simple: "well, you just boil them three times. Just like you would with any other salad."
Now I'm from Louisville, and I realize this is actually just a colloquial use of the word salad. But it does make a good point. In the American South, the standard treatment for bitter greens (collards, mustard greens, kale, beet greens, and so forth) is to boil the heck out of them, generally with some pig parts.
I don't eat pigs, but I do know some other tricks for adding an umami counterpoint to the vegetal intensity of these greens. If you don't like bitter greens, this recipe isn't going to convert you. But if you are like me, and can't get enough, you are in for a treat.
Specifically: fresh shiitake mushrooms and soy sauce. Now I know that sounds like I'm making an Asian dish, but hold on a second. The shiitakes are going to be sliced thin and fried to extract their flavor, and the soy is used in a small quantity, just to add background complexity. A bit of smoked paprika adds another layer of flavor.
Serve this up with cornbread and fried green tomatoes, maybe some red beans and rice, and you've got yourself a feast.
Southern-Style Collard Greens, Veganized
Vegetarian, vegan, and gluten-free
Serves at least 4 as a side dish
2 big bunches collard greens
2 tablespoons vegetable oil
12 fresh shiitake mushroom caps, thinly sliced
1/2 onion, thinly sliced
1 teaspoon smoked paprika (pimenton de la vera for example)
1/2 teaspoon chili flakes
2 teaspoons shoyu, tamari or other good soy sauce
salt to taste
Strip the collard greens from the stems, wash thoroughly in three changes of water, and slice into 1″ ribbons.
Heat a dutch oven or soup pot over a medium flame. Add the oil, shiitake, and onions and cook, stirring occasionally for 5 minutes until they have some color. Add the collard greens, smoked paprika, chili flakes, soy sauce and 1/2 cup water, reduce the heat to low, and cover. You may have to add the collards a bit at a time if the lid won't fit on.
Cook for, oh, at least 45 minutes, until completely tender, checking occasionally to see if they need a little more water.
When the greens are fully cooked, remove the lid and cook off the water. Taste and adjust the seasonings; they will probably want more salt or soy sauce, and maybe more of the smoked paprika.